Dental hygienists are licensed in all 50 states and the District of Columbia. Each jurisdiction's board of dentistry is responsible for regulating the profession, including setting specific standards for education, experience and competency assessments required for licensure within the jurisdiction.
Find Dental Hygienist Info For Your State
Completing a Dental Hygiene Degree Program
All dental hygienists must be licensed to practice in the United States, and the first step to licensure is the completion of an entry-level dental hygiene program. The American Dental Hygienists Association (ADHA) recognizes an associate or bachelor's-level education in dental hygiene as being suitable for entry-level positions.
SPONSORED LISTINGS
Featured Programs:

Penn Foster's Dental Assistant career diploma program​ will teach you on-the-job skills like dental health procedures, office operations, dentistry terminology use, and more - so you can begin pursuing your career as a Dental Assistant.​
Selected Campus Locations:
Selected Programs: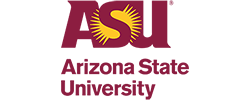 With ASU's Online Bachelor of Science in Applied Biological Sciences – Pre-Dental, you'll be equipped with the knowledge, skills and experience needed to pursue an advanced degree in dentistry or a career in a dental-related field.
Selected Campus Locations:
These dental hygienist programs are designed to prepare candidates to provide delegated dental hygiene services, including providing preventative services and counseling individual patients and groups on oral health.
Associate's and bachelor's degree programs in dental hygiene end in a clinical externship. These programs may be offered through college/universities, junior colleges, dental schools, or vocational/technical schools.
Curriculum in a dental hygiene program often includes coursework in:
Human anatomy and physiology
Microbiology
Dental hygiene
Dental radiology
Oral pathology
Dental pharmacology
Those completing a bachelor's degree in dental hygiene can expect to complete additional coursework in the sciences, in the dental sciences, and in clinical dental hygiene. In addition, bachelor's degree programs often allow students to focus on specialized non-clinical areas, including healthcare management/administration, education, and research.
Admission standards for dental hygiene programs are often strict. Candidates may need to meet a number of prerequisites in order to be admitted into a program. This often includes:
Minimum ACT/SAT scores
The completion of high school chemistry and biology courses with a minimum grade requirement
A minimum high school GPA
A personal interview with admissions
A written interview
Professional and academic references
An application essay
CPR certification
Take and Pass Written and Clinical Examinations
The competency assessment process for becoming a licensed dental hygienist is two-fold, as candidates are required to take and pass the National Board Dental Hygiene Examination (NBDHE) through the Joint Commission on National Dental Examinations, as well as a state/regional clinical examination. Currently, all U.S. jurisdictions require candidates to pass the NBDHE in order to qualify for state licensure.
In addition to passing the NBDHE written examination, candidates for state licensure must take and pass a clinical examination, which may be state or regionally specific. Depending on the requirements of the state dental board, candidates may either be required to complete a regional examination specific to their area, or the board may accept passing scores from any regional examination.
The regional testing agencies include:
Both California and Delaware have their own, state-specific clinical examinations that must be completed for licensure:
The application fee to take a regional or state clinical examination is about $1,000, which includes a candidate's professional liability insurance coverage. Additional examination fees may apply for candidates taking a nitrous oxide or local anesthesia examination as part of their clinical examination.
Applying for State Licensure
After completing an accredited dental hygiene program and passing the required examinations, candidates must apply for licensure through their particular state licensing authority. A list of state dental boards can be found here. In addition, candidates are usually required to obtain and maintain CPR certification and pass a jurisprudence examination for licensure.
Candidates who have been convicted of a felony or serious misdemeanor may be refused a state license to practice dental hygiene, as would candidates who are unable to pass a child abuse clearance.
Some states have additional licensing requirements for candidates applying for licensure by endorsement. For example, Alabama requires candidates for licensure to submit two letters of recommendation from licensed dentists or dental hygienists, while Arizona requires candidates to show proof of the completion of at least 1,000 hours of professional work experience in the past two years.
Further, all states require dental hygienists to complete continuing education to maintain their licenses. For example, dental hygienists in California must renew their licenses every two years and complete at least 25 continuing education hours, while dental hygienists in Michigan must renew their licenses every three years and complete 36 continuing education hours within that time.
The type of acceptable continuing education may also vary depending on state requirements. For example, dental hygienists may complete all of their continuing education requirements through self-study, whereas dental hygienists in New Hampshire are only permitted to complete four out of their 20-hour requirement through self-study.
The ADHA offers a wealth of online courses for satisfying continuing education requirements. Topics may include: diet and nutrition; working with vulnerable populations; infection control; inter-professional work; and periodontology, just to name a few.