According to the California Employment Development Department, there were nearly 22,000 dental hygienists employed in California in 2012. The Department expects about 5,000 new dental assistant jobs will be created during the current ten-year period ending 2022. This represents an increase of 23.4 percent, resulting in an average of 1,060 annual openings.
As of 2012, there were 27,065 dentist offices in California. The Employment Development Department estimates that nearly 97 percent of all dental hygienists in the State are employed in dental offices.
SPONSORED LISTINGS
Featured Programs:

Penn Foster's Dental Assistant career diploma program​ will teach you on-the-job skills like dental health procedures, office operations, dentistry terminology use, and more - so you can begin pursuing your career as a Dental Assistant.​
Selected Campus Locations:
Selected Programs: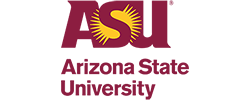 With ASU's Online Bachelor of Science in Applied Biological Sciences – Pre-Dental, you'll be equipped with the knowledge, skills and experience needed to pursue an advanced degree in dentistry or a career in a dental-related field.
Selected Campus Locations:
Dental hygienists in California may be responsible for applying preventive materials, providing oral health education and treatment counseling to patients, identifying oral pathologies and injuries, and managing dental hygiene practices.
To work as a dental hygienist in California, you must be licensed through the Dental Hygiene Committee of California (DHCC), which requires completing the following steps:
---
Step 1. Graduate from an Accredited Dental Hygiene Program
The first step to becoming a licensed registered dental hygienist in California is to successfully complete an associate or bachelor degree program in dental hygiene that has been accredited by the Commission on Dental Accreditation (CODA).
A CODA-accredited dental hygienist program, whether at the associate or bachelor degree level, includes extensive study in the general, dental, and dental hygienist sciences. The majority of programs culminate in a clinical rotation during which time students are afforded the opportunity to apply their knowledge in a real-world setting.
Just a few of the courses found within a dental hygienist degree program include:
Sociology
Psychology
Biology
Physiology
Anatomy
Pathology
Radiology
Dental anatomy
Periodontology
Community dental health
There are currently 27 CODA-accredited dental hygienist programs in California.
If you want to become a registered dental hygienist in alternative practice (RDHAP) in California, you must either complete 120 semester units of college coursework or graduate from a Bachelor of Science program in dental hygiene (see step 7). Therefore, it is often beneficial for dental hygienists in California to pursue a bachelor's degree as it may allow for broader career opportunities.
---
Step 2. Pass the National Board Written Examination
A CODA-accredited dental hygienist program in California will prepare you to take the National Board Dental Hygiene Examination (NBDHE) through the Joint Commission on National Dental Examinations (JCNDE).
If you have not graduated from a CODA-accredited dental hygienist program in California, you must provide verification of the completion of the following California Board-approved courses before you can sit for the National Board examination:
Gingival soft tissue curettage
Administration of local anesthetic agents
Administration of nitrous oxide-oxygen analgesia
You must provide the DHCC office with certificates of the completion of the above courses at least 30 days prior to the examination date.
The NCDHE is administered through Pearson VUE testing centers throughout the United States. The cost of taking the NBDHE is $400.
---
Step 3. Pass the California Clinical Dental Hygienist Examination
Upon the successful completion of the National Board Dental Hygienist examination, you must take and pass the California Clinical Dental Hygienist Examination, which includes an examination of a patient and complete scaling root planning on one or two quadrants. The DHCC must receive your original scorecard indicating the successful completion of the National Board examination at least 30 days before you take the clinical examination.
Examinations are conducted each year in three locations at the following dental schools:
University of California, San Francisco School of Dentistry, San Francisco
University of Southern California School of Dentistry, Los Angeles
University of the Pacific School of Dentistry, San Francisco
You can view an upcoming examination schedule here.
You must complete the DHCC Clinical Examination Application and include the application fee of $50, the examination fee is $525, and the license fee of $100 (total fee of $675) with your application.
You can expect the results of your examination to be mailed to you in about 6 weeks following the examination date.
---
Step 4. Pass the Dental Hygiene Committee of California Law and Ethics Written Examination
Once you have completed the clinical examination and the DHCC has determined you are eligible to take the California Law and Ethics Written examination, the DHCC will notify the examination administrator, who will mail you a scheduling notice with instructions on how to apply for the examination. The cost of the examination is $28.
You can learn more about the California Law and Ethics Written examination and view examination sites here.
---
Step 5. Apply for Licensure as a Registered Dental Hygienist in California
After you have successfully completed both the clinical examination and the written law and ethics examination, you can expect to receive an application from the DHCC.
If you have been licensed in another state for at least 5 years, you are eligible to apply for licensure by credential and must therefore complete the Application to Practice Dental Hygiene through Licensure by Credential.
You may also apply for licensure if you have completed a clinical examination other than the one offered through the DHCC:
In addition to a completed application for licensure, you must:
Enclose two, passport-size photographs taken within the last 6 months
Have your fingerprints electronically scanned (You can download the forms for doing so here.) Note: A license will not be issued until clearance has been received from the Department of Justice and the Federal Bureau of Investigation.
Include any other licenses with your application, regardless of the status of your license
If you are not a graduate of a California dental hygiene program, you must complete the radiation safety certification form and return it in order to expose radiographs in California.
---
Step 6. Maintain Your Dental Hygienist License in California
Your California dental hygienist license must be renewed every 2 years on the last day of the month of your birthday. The DHCC renews all California dental hygienist licenses. You can expect to receive a notice about 60 days prior to the expiration of your license.
The two-year renewal fee for a dental hygienist license in California is $160. There are no continuing education requirements for your first renewal period. Upon the start of your first renewal period, however, you will be required to complete at least 25 continuing education units every 2 years. You can view a list of approved continuing education providers here.
As a condition of your license renewal, you must complete the following:
At least 2 units in infection control specific to California regulations
At least 2 units regarding the California Dental Practice Act and its related regulations
At least 4 units in basic life support
---
Step 7. Become a Registered Dental Hygienist in Alternative Practice (RDHAP)
Registered dental hygienists in Alternative Practice (RDHAP) in California are permitted to practice as:
An employee of another registered dental hygienist in an alternative practice
An independent contractor
A sole proprietor of an alternative dental hygiene practice
An employee of a dentist
An employee of a primary care clinic or specialty clinic
An employee of a clinic owned or operated by a public hospital or health system
An employee of a clinic owned and operated by a hospital that maintains a contract with the county government
RDAHPs may perform duties in the following settings:
Private residences of the homebound
Schools
Residential facilities and other institutions
Areas recognized by the Office of Statewide Health Planning and Development as being "health professional shortage areas"
Before you can establish an independent practice as an RDHAP, you must provide the Board with documentation that you have an existing relationship with at least one dentist who you can use for referral, consultation, and emergency services. The dentist's license must be current and active.
To apply to become an RDHAP in California, you must complete and sign the RDHAP Application for Licensure and:
Enclose the application fee of $300 (made payable to DHCC)
Enclose a copy of your current, active RDH license
Enclose a copy of your diploma showing the completion of a Bachelor of Science degree or the completion of at least 120 semester units
One 2×2 inch passport-size photograph
Completion of the Certification of Clinical Practice form
Copy of the Live Scan fingerprinting for the RDHAP license type
Documentation of the RDHAP Relationship With Dentist form
RDHAPs in California must also renew their licenses every 2 years; however, continuing education credits must total 35.