According to a July 2014 American Dental Hygienists Association (ADHA) report, there are currently 335 accredited dental hygienist entry-level programs offered in the United States. Accredited dental hygienist programs are recognized by the American Dental Association (ADA) as programs that have received accreditation from the Commission on Dental Accreditation (CODA).
These entry-level dental hygiene programs include:
228 associate degree programs (A.S., A.A.S., and A.A.)
56 bachelor degree programs
8 certificate programs
SPONSORED LISTINGS
Featured Programs:

Penn Foster's Dental Assistant career diploma program​ will teach you on-the-job skills like dental health procedures, office operations, dentistry terminology use, and more - so you can begin pursuing your career as a Dental Assistant.​
Selected Campus Locations:
Selected Programs: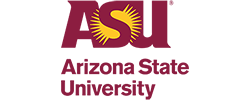 With ASU's Online Bachelor of Science in Applied Biological Sciences – Pre-Dental, you'll be equipped with the knowledge, skills and experience needed to pursue an advanced degree in dentistry or a career in a dental-related field.
Selected Campus Locations:
Program totals do not equal 335, as some programs offer more than one degree option. Associate degrees in dental hygiene may be offered through junior colleges, technical colleges/schools, and dental schools/academies.
Find Dental Hygienist Education Info by State
Dental hygiene programs are designed to facilitate the development of students, through both formal education and on-site clinical and community-based experiences, in order to prepare them to earn state licensure and become competent, entry-level dental hygienists.
Upon completion of a dental hygiene program, graduates should be able to:
Provide comprehensive dental hygiene services based on the current standard of care
Integrate knowledge from general education, basic science, and dental hygiene coursework
Demonstrate effective written, oral, and interpersonal communication skills
Demonstrate skills in critical thinking, self-assessment, and problem-solving regarding dental hygiene
Commit to lifelong learning and professional development
Prerequisites for admission into an entry-level dental hygiene program may include:
Minimum combined SAT scores
Completion of high-school level science and math courses with a minimum GPA
Letter of recommendation from employer, teacher, guidance counselor, etc.
Personal essay
Admission requirements into dental hygiene programs often include:
Medical and legal clearances (e.g., child abuse clearance, criminal record check, results from a recent physical examination, vaccinations, urine drug screen, etc.)
Proof of current certification from an approved CPR course (adult, child, infant, and AED)
Purchase of required supplies, including uniform scrubs, instrument kit, shoes, textbooks, manuals, etc.
Entry-Level Dental Hygiene Programs
Entry-level programs in dental hygiene are designed to prepare individuals for the clinical practice of dental hygiene. They may be designed as certificate, associate degree, or bachelor degree programs.
An associate degree program in dental hygiene generally requires the completion of about 84 credit hours, while a bachelor degree in dental hygiene requires the completion of about 118 hours. While a few programs in dental hygiene are offered as summer programs, the majority (88 percent) are designed as semester-based programs. Just 14 percent offer students the ability to complete their dental hygiene program on a part-time basis, while 29 percent offer at least a few opportunities for distance (online) learning. The ADHA notes that master's degree programs are more likely to offer distance learning opportunities.
Further, there are 55 degree completion programs that afford licensed dental hygienists the ability to continue their education and earn a bachelor's degree in dental hygiene or a related area. The majority of these programs result in a Bachelor of Science in Dental Hygiene, while just about 10 percent result in related degrees, such as a Bachelor of Science in Health Sciences or a Bachelor of Science in Allied Health.
CODA-accredited dental hygiene programs require at least 2,932 curriculum clock hours, which includes at least 659 clock hours of supervised instruction in clinical dental hygiene.
General education courses in accredited programs may include English, speech, psychology, and sociology, while basic science courses include anatomy, biochemistry, microbiology, physiology, nutrition, and pathology.
Dental science courses include radiology, periodontology, dental materials, dental anatomy, head and neck anatomy, and pain control, among others, while dental hygiene courses include oral health education, community dental health, supervised instruction, and clinical practice, among others. Eighty-two percent of all accredited dental hygiene programs require students to complete a clinical rotation in a public setting.
Advanced Degrees in Dental Hygiene
Master's degree programs in areas related to dental hygiene are generally reserved for individuals interested in pursuing careers in research, teaching, or clinical practice in schools and government health programs. Students often focus their study at the master's degree level in one or more of the following areas:
Practice administration
Finance and reimbursement
Human resources
Dental hygiene diagnosis and treatment planning
Administration and monitoring of anesthesia
Restorative techniques
A 2012 ADHA survey found that about 75 percent of all students enrolled in master's degree programs in dental hygiene-related areas are interested in teaching.
The ADHA also outlines a number of career paths for dental hygienists who want to take their careers to the next level through the completion of advanced degrees:
Corporate dental hygienists; positions may include:

Sales representatives
Product researchers
Corporate educators
Corporate administrators
Dental hygienists in public health settings: Dental hygienists in community health programs, which are usually funded by government and nonprofit organizations, help to provide dental care to those with limited means.
Researchers: Dental health researchers may conduct surveys or test new procedures or products for effectiveness or accuracy.
Educators: Dental hygiene educators instruct in higher education institutions throughout the U.S. Educators may be clinical instructors, program directors, classroom instructors, and corporate educators.
Administrators: Dental hygienists in administrative positions may be clinical directors, programs directors, and deans of health sciences in an educational institution.