According to the Florida Department of Economic Opportunity, there were 10,669 licensed dental hygienists working in the state as of 2013. By 2022, the number of hygienists in Florida is expected to increase 27.1 percent to 13,559. This represents an estimated 4,552 job openings between 2013 and 2022.
The Florida Department of Health; Division of Medical Quality Assurance issues licenses to qualified applicants, while the Florida Board of Dentistry regulates their scope of practice as defined in Chapter 466 Florida Statutes, Rule 64B5 of Florida's Administrative Code.
SPONSORED LISTINGS
Featured Programs:

Penn Foster's Dental Assistant career diploma program​ will teach you on-the-job skills like dental health procedures, office operations, dentistry terminology use, and more - so you can begin pursuing your career as a Dental Assistant.​
Selected Campus Locations:
Selected Programs: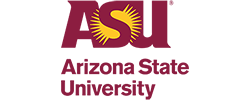 With ASU's Online Bachelor of Science in Applied Biological Sciences – Pre-Dental, you'll be equipped with the knowledge, skills and experience needed to pursue an advanced degree in dentistry or a career in a dental-related field.
Selected Campus Locations:
Complete the following steps to become a licensed dental hygienist in Florida:
---
Step 1. Graduate from a CODA-Accredited Dental Hygiene Program
To qualify to become a licensed dental hygienist in Florida, you must be at least 18 years old, and you must graduate from a dental hygiene program accredited by the Commission on Dental Accreditation (CODA) of the American Dental Association (ADA).
CODA-accredited programs in dental hygiene are offered at both the associate and bachelor level, and are available through community colleges, traditional universities and colleges, dental schools, as well as through online institutions.
There are currently 20 CODA-accredited dental hygiene programs in Florida.
Either an Associate of Science or Bachelor of Science in Dental Hygiene will satisfy the requirements for examination and licensure in Florida.
---
Step 2. Pass the Dental Hygiene National Board Examination
A CODA-accredited dental hygiene program will prepare you to take the National Board Dental Hygiene Examination (NBDHE) through the American Dental Association (ADA) Joint Commission on National Dental Examinations (JCNDE).
The NBDHE is designed to assess your knowledge of dental hygiene, dental hygiene sciences, and biomedical sciences.
This written exam consists of two components and a total of 350 questions. It is administered through Pearson VUE testing centers located throughout the United States, including those located in Orlando, Tampa, Port Charlotte, St. Petersburg, Gainesville, Miami, and Tallahassee, among many other cities in Florida.
You must successfully complete this written exam in order to submit an application for the ADEX Dental Hygiene Licensing Examination.
---
Step 3. Pass the ADEX Dental Hygiene Licensing Examination
The Commission on Dental Competency Assessments (CDCA), formerly the North East Regional Board of Dental Examiners (NERB), administers the American Board for Dental Examiners (ADEX) Dental Hygiene Examination.
This two-part exam consists of:
The Computer Simulated Clinical Examination (CSCE). The CSCE is about two hours in duration and is completed at your local Prometric Testing Center.
Patient Treatment Clinical Examination (PTCE). The PTCE is about four hours in duration and is completed at a clinical examination site.
Information on applying and preparing for both the CSCE and PTCE through the CDCA can be found here.
Effective April 1, 2015, the CDCA also administers the Florida Laws and Rules Examination, which must also be completed successfully in order to qualify for dental hygiene licensure in Florida. Information on exam registration, fee schedules and exam preparation materials can be found here.
---
Step 4. Submit a License Application and Required Documents
Once you have successfully passed the National Board Examination, the ADEX clinical (practical) examination, and the Florida Laws and Rules Examination, the final step to achieving licensure is to provide the Florida Board of Dentistry with a completed Dental Hygiene Licensing Application along with the required documents (you may also apply online):
NBDHE scores mailed directly from the ADA to the Florida Board of Dentistry
CDCA will provide the Board with scores for the ADEX and Florida Laws and Rules Exam
Official sealed transcripts mailed directly from your school's registrar's office (must include the degree you earned, your matriculation date, your date of graduation, and must bear your school's seal)
A certificate for the completion of a course in the prevention of medical errors (you can find providers and courses here.)
Proof of training in CPR at the basic support level including use of AED and ambu-bags
All documents are to be sent to:
The Department of Health
Board of Dentistry
4052 Bald Cypress Way, BIN #C-O8
Tallahassee, Florida 32399-3258
---
Step 5. Apply for Certification in the Administration of Local Anesthesia
One you have been licensed, you may achieve certification in the administration of local anesthesia, provided you complete a course that is accredited by CODA or approved by the Florida Board of Dentistry.
The course must include at least 30 hours of didactic instruction and at least 30 hours of clinical experience and instruction in:
Anatomy
Infection control
Medical emergencies involving local anesthesia
Neurophysiology
Pharmacology of vasoconstrictors
Psychological aspects of paint control
Selection of pain control modalities
Systematic complications
Techniques of mandibular anesthesia
Pharmacology of local anesthetics
Techniques of maxillary anesthesia
Theory of pain control
Submit an Application for Dental Hygiene Certification – Administration of Local Anesthesia and pay the certification fee of $35 (made payable to the Florida Department of Health).
You must provide the Board with evidence of current certification in basic or advanced cardiac life support when submitting the application.
---
Step 6. Maintain Your Dental Hygiene License
All initial dental hygiene licenses expire on February 28 of the first even-numbered year following licensure. From then on, licensure biennium dates are March 1 – February 28 of even-numbered years.
All license renewals can be completed online. You can expect to receive a renewal notification from the Florida Department of Health about 90 days before your license expires. The cost of renewal is $105.
To renew your license, you must successfully complete 24 continuing education hours that adhere to the following requirements:
22 general continuing education hours
2 hours in medical error training
2 hours in domestic violence (must be completed every third biennium)
Must have current CPR certification
2 hours of HIV/AIDS training (only if you are newly licensed and renewing your license for the first time)