The Connecticut Department of Labor named dental hygienists on its list of Connecticut Occupations with the Most Openings in 2013. The growth in this field is expected to continue well into the future with a projected increase of approximately 157 dental hygienist jobs becoming available each year through 2022.
The Connecticut Department of Health regulates and licenses dental hygienists, who are responsible for providing preventative care that addresses the potential for gum and bone diseases, as well educating patients on good oral hygiene practices.
SPONSORED LISTINGS
Featured Programs:

Penn Foster's Dental Assistant career diploma program​ will teach you on-the-job skills like dental health procedures, office operations, dentistry terminology use, and more - so you can begin pursuing your career as a Dental Assistant.​
Selected Campus Locations:
Selected Programs: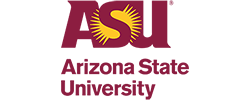 With ASU's Online Bachelor of Science in Applied Biological Sciences – Pre-Dental, you'll be equipped with the knowledge, skills and experience needed to pursue an advanced degree in dentistry or a career in a dental-related field.
Selected Campus Locations:
To become a dental hygienist in Connecticut, you must achieve licensure through the Connecticut Department of Health, which requires the successful completion of the following steps:
---
Step 1. Complete a Connecticut Board-Approved Dental Hygienist Program
To achieve licensure as a dental hygienist in Connecticut, you must complete a dental hygiene program that is accredited by the American Dental Association (ADA). The ADA recognizes the Commission on Dental Accreditation (CODA) as the sole accrediting body for dental hygienist programs in the U.S.
There are five CODA-accredited dental hygiene school in Connecticut. Dental hygiene programs may be offered at the associate's or bachelor degree level, although the minimum requirement for licensure is an associate's degree (A.S., A.A.S., or A.A.).
CODA-accredited dental hygiene programs cover all necessary training and coursework to qualify to sit for the National Board Examination and regional clinical examination.
The majority of programs culminate in a clinical externship, which allows students to begin using their skills in a real-world setting.
You can expect a dental hygiene program to include study in:
Human anatomy
Dental anatomy
Physiology
Microbiology
Dental hygiene
Dental radiology
Oral pathology
Dental hygiene associate's and bachelor's degree programs may be offered through a number of institutions, including junior colleges, traditional colleges and universities, dental schools, and online institutions, among others.
---
Step 2. Successfully Complete the National Board Examination
Connecticut, like all other states in the U.S., recognizes the National Board Dental Hygiene Examination (NBDHE) as a component of licensure. The NBDHE is designed to assess a number of areas, including dental hygiene sciences and basic dental hygiene information. It also allows students to apply their knowledge of dental hygiene in a series of case-based assessments.
All NBDHE examinations are administered through Pearson VUE testing centers located throughout the United States. There are three Pearson VUE testing centers in Connecticut: Wallingford, Wethersfield, and Norwalk.
You can schedule online to take the NBDHE examination here once you have submitted an application to the Joint Commission on National Dental Examinations (JCNDE).
You can contact the JCNDE at nbexams@ada.org or at 1-800-232-1694 if you have any questions regarding the application process.
---
Step 3. Successfully Complete a Clinical Performance Examination
Once you have successfully passed the National Board examination, you must take and pass a clinical performance examination.
The Connecticut Department of Health recognizes the following four regional testing agencies as providing the clinical performance examinations necessary for licensure in the state:
---
Step 4. Apply for Licensure as a Dental Hygienist in Connecticut
In addition to the completion of a Dental Hygienist License Application, you must provide the Department with the following:
The application fee of $150 (made payable to Treasurer, State of CT)
Official transcripts from your dental hygiene program (must verify the degree you were awarded)
A recent, passport-sized photograph
Your official National Board Dental Hygiene Examination score
An official report showing the successful completion of a regional board examination
Your completed application, along with all supporting documentation, must be mailed to:
Connecticut Department of Public health
Dental Hygienist Licensure
410 Capitol Avenue
Hartford, CT 06134
You can contact the Department at 860-509-7603 or at dph.dentalteam@ct.gov with questions regarding the application process.
---
Step 5. Complete Education/Training Requirements to Administer Dental Anesthesia
Dental hygienists in Connecticut who want to administer local anesthesia, limited to infiltration and mandibular blocks and under the indirect supervision of a licensed dentist, must complete a course of instruction in basic and current concepts of local anesthesia and pain control that has been accredited by CODA. The course must include:
At least 10 hours of didactic training, including (but not limited to):


Client management
Emergency precautions and management
Instruction in the administration of anesthetic agents
Psychology of pain management
Review of anatomy, physiology, pharmacology or anesthetic agents

At least 8 hours of clinical training – must include the direct observation of the performance of procedures
Note: There is no additional certification or license issued by the Department; however, dental hygienists must furnish the Department with proof of the completion of the above if the Board requests it.
---
Step 6. Renew your Dental Hygienist License in Connecticut
Your dental hygienist license must be renewed biennially (in your birth month) upon the completion of at least 16 hours of continuing education and payment of the $100 license renewal fee.
You can expect to receive a renewal notification about 60 days prior to your license expires.
Qualifying continuing education activities may include:
Courses accredited or recognized by the Council on Dental Accreditation; a regional accrediting agency; the ADA; a state, district, or local dental association or society affiliated with the ADA; the National Dental Association; and the American Dental Hygienists Association, among others
Courses offered through dental schools
Online courses
Dental hygienists in Connecticut may find a wealth of continuing education resources through the Connecticut Dental Hygienists Association. Additional information on continuing education for dental hygienists in Connecticut can be found here.