The Bureau of Labor statistics indicates that as of 2013, there are 1,250 dental hygienists employed throughout Nebraska earning an average annual salary of $63,200.
The Nebraska Board of Dentistry regulates the standards and licensure requirements for dental hygienists in the state.
SPONSORED LISTINGS
Featured Programs:

Penn Foster's Dental Assistant career diploma program​ will teach you on-the-job skills like dental health procedures, office operations, dentistry terminology use, and more - so you can begin pursuing your career as a Dental Assistant.​
Selected Campus Locations:
Selected Programs: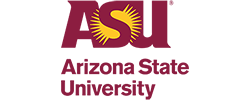 With ASU's Online Bachelor of Science in Applied Biological Sciences – Pre-Dental, you'll be equipped with the knowledge, skills and experience needed to pursue an advanced degree in dentistry or a career in a dental-related field.
Selected Campus Locations:
Learn how to become a dental hygienist in Nebraska by reviewing the steps in this guide:
---
Step 1. Earn a Degree from a CODA-Accredited School
Before you apply for licensure, you must attain a degree from a Commission on dental Accreditation (CODA)-accredited dental hygiene school.
There are two (2) CODA-accredited dental hygiene schools in Nebraska, which offer associates and bachelor's degrees. Topics covered in courses will include, but are not limited to, the following:
Preclinical Theory
Medical Emergencies
Preclinical Techniques
Osteology of the Skull
Special Topics in Oral Biology
Oral Histology
Dental Anatomy
Oral Radiology
Dental Materials
Integrated General Oral Pathology
Theoretical Periodontology
Although an associate's degree is the minimum degree necessary to apply for licensure in Nebraska, attaining higher education will better prepare you for your career, and higher levels of education and training often lead to more advanced career opportunities.
After attaining a degree, you will be eligible to take the National Board and Clinical exams. Along with this, you should be trained and prepared to complete the following dental hygiene duties:
Scale subgingival regions of teeth
Root plan with hand and ultrasonic equipment
Polish all exposed teeth surfaces
Polish amalgam restorations
Conduct preliminary charting and screening exams
Periodontal probe and chart
Gingival curettage
Place and remove periodontal dressings
Take radiographs
Provide oral health education for patients and communities
---
Step 2. Take National, Practical, and Jurisprudence Examinations
National Board
Taking and passing the National Board Dental Hygiene Examination (NBDHE), which is given by the Joint Commission on National Dental Examinations, is a necessary step before applying for licensure. You will need to provide your official Board scores along with your application.
In order to apply for the National Board Dental Hygiene exam, follow these steps:
The Joint Commission on National Dental Examinations will process and approve your application. After this, they will mail or email you instructions on scheduling the exam. Pearson VUE is a testing center for the exam, and exam sites in or near Nebraska may be found here:
North Platte, Nebraska
Lincoln, Nebraska
Omaha, Nebraska
Hays, Kansas
Topeka, Kansas
Wichita, Kansas
Sioux City, Iowa
Sioux Falls, South Dakota
Practical Examinations
Each year, acceptable examinations for the Board will be updated by August 15th. As of 2014, the Board accepts both the Central Regional Dental Testing Service (CRDTS) Dental Hygiene Examination, and the Western Regional Examining Board (WREB) Dental Hygiene Exam.
For both exams, you must pass with a 75% or higher in order to be acceptable for the licensure application.
Jurisprudence Exam
The Jurisprudence exam is an open-book exam focusing on Nebraska Dental Laws.
In most states, a Jurisprudence exam is administered after the full application for licensure has been received and approved, However, in Nebraska, you must submit the jurisprudence examination along with your application.
Download and complete the Nebraska Dental Hygiene Jurisprudence exam, and submit with your application.
---
Step 3. Submit Application to Nebraska Board
In order to submit your licensure application, you must be at least 19 years of age and submit the following information:
Official School Transcript
Official NBDHE Exam Scores
Official Practical Exam Scores
Jurisprudence Exam
Required $110.00 Application Fee
Copy of birth certificate, marriage license, driver's license, or other verification of age
If you are already licensed in another jurisdiction, you may apply for reciprocity licensure if you meet all of the above requirements, along with the following:
Have actively engaged in dental hygiene practice for at least three (3) years, with at least one (1) of those three years being the immediately previous year before application
Provide proof of 15 hours of continuing education
Submit documentation of licensure in other jurisdiction
Along with your licensure application, you may submit an application for a local anesthesia permit, only if you have taken and passed an approved local anesthesia course. Application for this permit will require an additional $25 fee.
---
Step 4. Complete Continuing Education and Renew Your License
Once you attain licensure, your license will be valid for two (2) years, and it will expire on March 1st of odd-numbered years. Thirty (30) days before expiration, you will get a notification of expiration, including the amount of your renewal fee and information on how to renew your license. You must renew your license in order to maintain status as an active dental hygiene practitioner.
In order to renew, you must complete thirty (30) hours of approved continuing education (CE) credits.
Acceptable continuing education activities include:
Attending a State, National, or local meeting sponsored by the American Dental Hygiene Association (one credit hour for each hour of attendance)
Education programs sponsored by the American Dental Hygiene Association
District meetings
Study Clubs – to qualify as a Study Club, it must have a charter or constitution, officers, and consist of four (4) licensed members. The Club must submit list of meetings, including length, date, and topics, by March 1st of the renewal cycle. (one credit hour for each hour of attendance)
Formal education courses
University-sponsored courses
Home study with testing mechanism and/or certificate of completion (Must submit an abstract or resume along with the course to be reviewed by the Board. There is a 10 credit hour limit on home study per renewal cycle.)
Initial CPR certification (Limit of four (4) hours for re-certification.)
Ethics and Professionalism CE
Well-Being/Substance Abuse CE
There will be a random audit of licensed dental hygienist's continuing education credits throughout each renewal cycle. The Board will notify you of your selection for random audit, and you must be able to provide satisfactory documentation of completion of continuing education credits. Because of this, you will be responsible for keeping records of your personal continuing education files, such as certificates or records of credit.
You may find additional information specific to dental hygienists in Nebraska through the Nebraska Department of Health and Human Services Dental Hygiene page.