According to the New Mexico Department of Workforce Solutions, there were 1,030 dental hygienists licensed in the State in 2010. The Department projects that by 2022 there will be a total of 1,260 dental hygienists working in the state, representing an increase of more than 22 percent in the number of jobs. On average, there is expected to be 40 dental hygienist job openings in New Mexico annually.
The New Mexico Board of Dental Health Care and the Dental Hygienist Committee are responsible for overseeing and regulating the practice of dental hygiene in New Mexico.
SPONSORED LISTINGS
Featured Programs:

Penn Foster's Dental Assistant career diploma program​ will teach you on-the-job skills like dental health procedures, office operations, dentistry terminology use, and more - so you can begin pursuing your career as a Dental Assistant.​
Selected Campus Locations:
Selected Programs: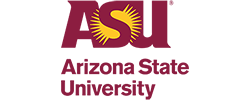 With ASU's Online Bachelor of Science in Applied Biological Sciences – Pre-Dental, you'll be equipped with the knowledge, skills and experience needed to pursue an advanced degree in dentistry or a career in a dental-related field.
Selected Campus Locations:
You must complete the following Board-mandated steps to become licensed as a dental hygienist in New Mexico:
---
Step 1. Complete an Accredited Dental Hygiene Program
Before you can begin the process of applying for a dental hygienist license in New Mexico, you must successfully complete a dental hygiene program that has been accredited by the Commission on Dental Accreditation (CODA). CODA is currently the sole accrediting body for dental hygiene programs in the U.S. and is recognized by both the United States Department of Education and the American Dental Association.
Although the minimum degree requirement for licensure in New Mexico is an associate degree, both associate and bachelor degrees are recognized as entry-level programs and both are eligible for accreditation through CODA.
An associate degree program, which may be an A.A., A.S., or A.A.S. program, is the most common route to licensure, while a bachelor degree program, which is typically structured as a Bachelor of Science (B.S.) degree, is the clear option for those that are interested in eventually pursuing a career in research, academia, or dental practice management.
Both associate and bachelor degree programs contain coursework in the basic sciences, in the dental sciences, and in dental hygiene.
Bachelor degree programs usually also include coursework in such areas as business and office administration, thereby preparing students to eventually work as office supervisors or to pursue a master's degree in such related areas as practice administration, finance, human resources, and restorative techniques, among others.
In New Mexico, there are currently 5 CODA-accredited programs in dental hygiene.
---
Step 2. Successfully Complete the National Board Dental Hygiene Examination
The National Board Dental Hygiene Examination (NBDHE), which was developed by the Joint Commission on National Dental Examinations (JCNDE), an independent agency of the American Dental Association, is a requirement for licensure in all U.S. jurisdictions, including New Mexico.
The NBDHE is a general dental hygiene examination that assesses candidates in the biomedical and dental hygiene sciences. This examination consists of two components and 350 questions. The second component of the examination includes 150 case-based items referring to 12 to 15 dental hygiene patient cases.
You must take the NBDHE at one of the many Pearson VUE testing centers located throughout the country. In New Mexico, you may take the examination at Pearson VUE locations in Albuquerque and in nearby El Paso, Amarillo, and Lubbock, Texas.
---
Step 3. Pass a Recognized Regional Clinical Board Examination
Before you can apply for licensure as a dental hygienist in New Mexico, you must take and pass one of the regional clinical board examinations recognized by the Board:
Clinical regional examinations are designed to assess your clinical skills in dental hygiene. Each examination, although different in content, includes skill-specific patient treatment in a clinical setting.
---
Step 4. Apply for a Dental Hygienist License in New Mexico
If you are a graduate of a CODA-accredited dental hygiene program, have taken all required examinations for licensure, and have not been licensed in another state or jurisdiction, you may apply using the Dental Hygiene Application for Licensure by Examination (Level III).
In addition to the completed, signed, and notarized application, you must include a $350 application fee (made payable to the New Mexico Board of Dental Health Care), and a passport-size photo taken within the last six months.
You must also provide the Board with the following:
Official transcripts with a raised, embossed seal verifying that you have completed all required courses from the dental hygiene school or college (sent directly to the Board office from the accredited program)
Copy of your regional clinical examination scorecard or certificate
Copy of your Dental Hygiene National Board Examination scorecard or certificate
Copy of a current Basic Life Support (BLS) or Cardiac Pulmonary Resuscitation (CPR)
Copy of a course in infection control through OSHA taken within the past 12 months (not required if you completed a dental hygiene program within the last 12 months)
The successful completion of the New Mexico Jurisprudence Examination with a score of at least 75 percent (attached to the application)
In addition to the completion of the application, licensure as dental hygienist requires a Level III Background Report from the Professional Background Information Services (PBIS). This process may take up to 90 days to complete; therefore, all applicants are encouraged to apply to the PBIS early. To initiate this service, you contact PBIS at 602-861-5867.
Once all the required documentation is received, your application will be sent to the Board's Application Committee for approval. You can then expect your license to be issued within 3 working days of the committee's approval.
You can direct any questions about the licensing and application process to the Board office at 505-476-4680 or at Dental.Board@state.nm.us.
---
Step 5. Apply for Local Anesthesia Certification
As a licensed dental hygienist, you may apply for Local Anesthesia Certification by completing the Dental Hygiene Local Anesthesia Certification Application, submitting a fee of $40, and provide the Board with the following:
Proof of the successful completion of an approved program in local anesthesia; must include at least 24 didactic hours and at least 10 hours of clinical training through an accredited dental hygiene program (official transcripts must be sent to the Board directly from the university)
Results from the successful completion of a written and clinical local anesthesia examination administered by the Western Regional Examining Board (WREB)
Current Cardiac Pulmonary Resuscitation (CPR) or Basic Life Support (BLS)
---
Step 6. Renew Your Dental Hygienist License
Dental hygienists in New Mexico must complete at least 45 hours of continuing education during each triennial renewal period. Up to 30 hours of continuing education can be completed online, on webinars, or through self-study.