With more than 4,800 dental hygienists working in the state as of 2013 and a ratio of 1.70 dental hygienists for every one thousand residents, Indiana is one of the top states in the nation in terms of employment in this field. Though 2020, there is expected to be a 34.7% increase in the number of dental hygienist jobs in Indiana, creating an average of 290 new openings each year.
The Indiana State Board of Dentistry is the professional licensing agency responsible for regulating the dental field in the state. To qualify for licensure as a dental hygienist in Indiana, simply follow these steps:
SPONSORED LISTINGS
Featured Programs:

Penn Foster's Dental Assistant career diploma program​ will teach you on-the-job skills like dental health procedures, office operations, dentistry terminology use, and more - so you can begin pursuing your career as a Dental Assistant.​
Selected Campus Locations:
Selected Programs: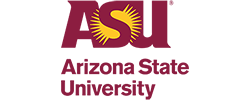 With ASU's Online Bachelor of Science in Applied Biological Sciences – Pre-Dental, you'll be equipped with the knowledge, skills and experience needed to pursue an advanced degree in dentistry or a career in a dental-related field.
Selected Campus Locations:
---
Step 1. Earn a Minimum of an Associate's Degree in Dental Hygiene
Before you apply for licensure, you need to complete at least two (2) academic years of formal coursework, which results in earning an associate's degree, from a dental hygiene program approved by the Indiana State Board of Dentistry and accredited by the American Dental Association (ADA) Commission on Dental Accreditation (CODA).
There are currently seven (7) CODA-accredited dental hygiene programs in the state of Indiana, which offer certificates, associate's, and bachelor's degrees. In programs such as these, you will complete courses such as these:
General Education Courses
Principles of Chemistry
Human Anatomy and Physiology
Ethics and Healthcare in a Pluralistic Society
Medical Terminology for the Health Professions
Medical Microbiology
Biostatistics
Pharmacology and Therapeutics
Oral Radiology
Applied Dental Materials
Preventative Oral Health
Dental Hygiene Theory
Dental Hygiene Clinic
Pain Management in Dentistry
Professional and Current Issues in Oral Healthcare
Although only two (2) academic years of formal coursework is required, employers may seek job candidates with higher levels of education and experience.
---
Step 2. Pass National, Clinical, and State Examinations
To apply for licensure in Indiana, you must first pass the National Board Dental Hygiene Exam and a Clinical Exam. Finally, after your application is approved, you must pass a written exam covering Indiana law.
National Board Examination
Before you apply for licensure, you must pass the National Board Dental Hygiene Examination (NBDHE), which is offered by the Joint Commission on National Dental Examinations. A passing score (75 or above) on this exam is required before you may move on to take the Indiana State Law examination.
To be eligible for this exam, you must either be enrolled in or be a graduate from a CODA-accredited dental hygienist program. Once eligible, you may apply by completing the following steps:
Read and Agree to NBDHE Guide
Register for DENTPIN
Apply for Exam
Schedule a Time and Location to Take Exam
Once the application is processed, JCNDE sends scheduling instructions through email (or mail, if you have not submitted an email). Pearson VUE is the testing vendor for the NBDHE exam, and has testing sites located in or near Indiana in the following cities:
Indianapolis, Indiana
Fort Wayne, Indiana
Terre Haute, Indiana
Merrillville, Indiana
Moraine, Ohio
Mason, Ohio
Chicago, Illinois
Louisville, Kentucky
Clinical (Regional) Dental Hygiene Examinations
To be eligible for licensure by examination in the State of Indiana, you must meet any one (1) of the following clinical exam requirements within the five (5) years prior to applying:
Indiana State Law/Jurisprudence Examination
The Jurisprudence Exam is a 50-question, multiple-choice text that covers the practice of dental hygiene, universal precautions, infection control standards, and Indiana State Statues and Administrative rules, which may be downloaded here.
After your application has been received and approved, the Board will notify you of your eligibility to complete this exam. The exam will be emailed to you, and after that, you have fourteen (14) days to pass with exam with a 75%, and return it to the Board.
---
Step 3. Submit Licensure Application to the Indiana State Board of Dentistry
There are currently two ways you may attain licensure through the Indiana State Board: Licensure through Examination, or Licensure through Endorsement/Credentials.
Licensure Through Examination — If you want to apply for licensure through examination, you must submit application, fees, and other documents that the board requires, including the following documents:
Transcript or Diploma from CODA-accredited Dental Hygiene School
National Board Exam Scores
Clinical Exam Scores
Current CPR Certification
Any Legal Name Change Documents
Two recent photographs taken within 8 weeks of filing application
Criminal Offense Statement, if convicted, including offense, court, cause number, and penalty
Official Application with $100 fee
If you have been previously licensed in a different state, you will also need to submit the following materials:
Any other state licensure (must be submitted by previous state)
National Practitioner Data Bank (NPDB), The Healthcare Integrity and Protection Data Bank (HIPDB)
Licensure Through Endorsement — If you want to obtain licensure through endorsement, submit the above information, as well as the following:
Self-query form, including the following forms: The National Practitioner Data Bank (NPDB), The Healthcare Integrity and Protection Data Bank (HIPDB) data bank.
Proof of at least fourteen (14) hours of continuing dental education in the previous two (2) years.
Proof of active practice for no less than two (2) years out of the three (3) years before your application.
Original, recent, written statements from at least three (3) practicing dentists verifying your practice as a dental hygienist.
Current certification in either basic life support or advanced cardiac life support.
---
Step 4. Complete Continuing Education to Retain Licensure
Your license must be renewed by March 1st every two (2) years on even-numbered years. You may renew online or through mail by submitting a renewal form, verification of current life support certification, verification of the continuing education requirements, and a $70 fee.
If you are renewing by mail, contact the Board at (317) 234-2054 or at pla8@pla.in.gov to receive a printed renewal form.
A dental hygienist must complete 14 hours of continuing education for each renewal period, following the specific guidelines below:
Ne more than five (5) specifically related to practice management
No more than two (2) credits may be earned for certification programs in basic life support certification, which is required to be maintained
At least seven (7) credits must be earned through live presentations or workshops.
You may earn continuing education credits in the following ways:
College course (one (1) credit hour for each lecture hour)
Up to four (4) credits through listening to a speech, lecture, or other presentation by a dental hygienist (two (2) credit hours if it is sponsored by an approved organization)
Attendance to a state, regional, or national meeting sponsored by an approved organization (one (1) credit hour)
Up to four (4) credit hours through attending a meeting of a study club sponsored by the American Dental Hygienist Association (one (1) credit hour)
A home study course offered by an approved organization (one (1) credit per hour of study material)
Approved organizational providers of continuing education include:
United States Department of Education
Council on Post-Secondary Education
National Dental Association
American Dental Association
Academy of General Dentistry
National Dental Hygiene Association
American Dental Hygiene Association
Council on Hospital Dental Services
American Medical Association
Joint Commission on Accreditation of Hospitals
Joint Commission on Healthcare Organizations
International organizations approved by the American Dental Association
A college or other teaching institution accredited by the United States Department of Education