As of 2014, there were 2,270 dental hygienists licensed in Iowa earning an average annual salary of $67,190. The Iowa Dental Board is responsible for the regulation and licensing of all professions within the field of dentistry, including hygienists.
To learn how to become a dental hygienist in Iowa, follow these four steps:
---
Step 1. Earn a Minimum of an Associate's Degree in Dental Hygiene
Before you apply for licensure, you need to earn at least an associate's degree from one of the dental hygiene schools approved by the Iowa Dental Board and accredited through the American Dental Association (ADA), Commission on Dental Accreditation (CODA).
There are currently five (5) CODA-accredited dental hygiene programs in Iowa, which result in certificates, associate's degrees, and sometimes bachelor's degrees. In programs such as these, you will complete courses such as:
Introduction to Organic/Biochemistry
Principles of Dental hygiene
Oral Histology and Embryology
Dental Hygiene Anatomical Sciences
Oral Radiology
Oral Pathology
Dental Hygiene
Clinical Dental Hygiene
Pharmacology
Dental Materials
Community Oral Health
SPONSORED LISTINGS
Featured Programs:

Penn Foster's Dental Assistant career diploma program​ will teach you on-the-job skills like dental health procedures, office operations, dentistry terminology use, and more - so you can begin pursuing your career as a Dental Assistant.​
Selected Campus Locations:
Selected Programs: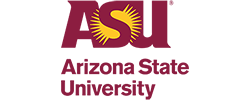 With ASU's Online Bachelor of Science in Applied Biological Sciences – Pre-Dental, you'll be equipped with the knowledge, skills and experience needed to pursue an advanced degree in dentistry or a career in a dental-related field.
Selected Campus Locations:
Attaining a degree in dental hygiene should prepare you for the practice of dental hygiene once you attain licensure. The practice of dental hygiene, according to Iowa, must include excellent performance in the following procedures:
Educational Procedures –analyze, plan, implement, and explore oral health education programs for individuals and for the community.
Therapeutic Procedures—detect and remove calculus and plaque, conduct periodontal scaling and root planning, remove and polish hardened restorative material, administer anesthesia, administer nitrous oxide, and apply or administer medicaments.
Preventative Procedures –apply pit and fissure sealants and other medications for periodontal control, as well as organize and administer fluoride and sealant.
Diagnostic Procedures – review medical and dental health history, conduct oral examination, test pulp vitality, and create registrations for mounting casts.
---
Step 2. Pass the National, Clinical, and Iowa Jurisprudence Examinations
To apply for licensure, you must first pass a National Board Exam and a Clinical Exam. After your application is approved, you must also pass a written exam covering Iowa State Jurisprudence.
National Board Examination
Before you apply for licensure, you must pass the National Board Dental Hygiene Examination (NBDHE), which is offered through the Joint Commission on National Dental Examinations.
To be eligible for this exam, you must either be enrolled in or a graduate of a CODA-accredited dental hygienist program. If you are eligible, apply for examination by completing the following steps:
Read and Agree to NBDHE Guide
Register for DENTPIN
Apply for Exam
Schedule a Time and Location to Take Exam
Once the application is processed, JCNDE sends scheduling instructions through email or mail. The instructions will direct you to a Pearson VUE testing center. You may test at the following locations in or near Iowa:
Des Moines, IA
Coralville, IA
Davenport, IA
Sioux City, IA
Rochester MN
Omaha, NE
Peoria, IL
Clinical (Regional) Dental Hygiene Examinations
To be eligible for licensure by examination in the State of Iowa, you must complete the clinical exam within the past five (5) years offered by the Central Regional Dental Testing Service, Inc. (CRDTS). If you have passed the clinical exam offered by the Western Region Examining Board (WREB), it will be accepted, as long as the exam was passed prior to September 1, 2011.
Central Regional Dental Testing Services (CRDTS) is a testing service made of twenty different State Boards of Dentistry, including Iowa. To be eligible to take the CRDTS exam, you must either be a graduate of a CODA-accredited dental hygiene program, or you must be currently enrolled in a CODA-accredited dental assisting program and submit a Letter of Certification (which is a form provided by CRDTS) signifying that you will complete your program within sixty (60) days of the exam date.
The CRDTS exam is a clinical skills assessment focusing on the dental hygienist's ability to perform extra/intra oral assessments, periodontal probing, scaling and subgingival calculus removal, and surpragingival deposit removal.
To apply for the exam:
Turn in the online application
Submit the $950 exam fee must be paid by cashier's check or money order with your 10 digit ID number in the lower, left-hand corner.
You will submit your top three (3) testing locations, and CRDTS will notify you of which location is available for your exam. Find the available exam dates and locations here.
Jurisprudence Examinations
After you have submitted your application for licensure, the Iowa State Board will send you testing information and a list of testing sites for the Jurisprudence exam. The Jurisprudence Exam is a multiple-choice, true/false exam, focusing on Iowa dental laws and regulations, specifically, Iowa Code chapters 147, 153, 272C, and 650. You may find these online, or order a copy here.
You will take your test with an Iowa community college testing site, and the testing site will mail or fax your answer sheet directly to the Board for scoring.
---
Step 3. Submit an Application for Licensure to the Iowa Dental Board
There are currently two ways you may attain licensure through the Iowa State Board: Licensure through Examination, or Licensure through Endorsement/Credentials.
Licensure Through Clinical Examination
If you want to apply for licensure through examination, you must submit application, fees, and other documents that the board requires, including the following:
Any Legal Name Change Documents
Affidavit of Application (enclosed in application)
Current Photograph
Authorization to Release Information (enclosed in application)
Letter to Iowa Dental Board
Certification of Education from CODA-accredited Dental Hygiene School (enclosed in application)
Diploma from CODA-accredited Dental Hygiene School
National Board Exam Scores
CRDTS Exam Scores
Current CPR Certification
Copy of results of National Practitioner Data Banks (NPDB)/Healthcare Integrity and Protection Data Bank (HIPDB) self-query (N/A if never been licensed)
Download the Dental Hygienist Permanent License – By Examination Application
Submit $146 fee
Licensure Through Credentials
If you are applying for the dental hygiene licensure through credentials, you must submit all of the above required documents, as well as the following:
A practice reference for each practice employment location within the past three (3) years
License certification from each state where you have been licensed
Dental Hygienist Permanent License – By Credentials application
Submit $246 fee
---
Step 4. Complete Continuing Education Requirements to Retain Licensure
Your dental hygienist licensure will expire on August 31st of every odd-numbered year. About 60 days before that date is approaches, you will get an application of renewal in the mail from the Iowa Dental Board.
To renew your licensure, you must complete the following before the expiration date:
Completed Renewal Application Form
Proof of Current CPR Certification
Payment of $150 Renewal Fee
Certification of 30 hours of Continuing Education
You should maintain a file of all completed continuing education for up to four years. As part of the 30 hours of continuing education, the following credits are required:
CPR Certification – up to three (3) hours may be claimed for completing a CPR course
Abuse Identification and Reporting Training – credit for this course may be claimed within six (6) months of employment and every five (5) years thereafter
Sedation – six (6) hours may be claimed for hygienists who have a deep sedation/general anesthesia or conscious sedation permit
Other course topics may include anything that directly relates to clinical practice. Prohibited courses include the following:
Personal Development
Business Aspects of Practice
Personnel Management
Government Regulations (except for OSHA and HIPAA)
Insurance
Collective Bargaining