The Bureau of Labor Statistics, as of 2013, recognizes 1,760 dental hygienists employed in Louisiana with wages going up to $84,990 per year, depending on education and experience.
The Louisiana State Board of Dentistry is the organization that determines the guidelines for licensure in the state of Louisiana. In order to legally perform the job functions of a dental hygienist in Louisiana, you need to be licensed.
SPONSORED LISTINGS
Featured Programs:

Penn Foster's Dental Assistant career diploma program​ will teach you on-the-job skills like dental health procedures, office operations, dentistry terminology use, and more - so you can begin pursuing your career as a Dental Assistant.​
Selected Campus Locations:
Selected Programs: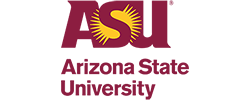 With ASU's Online Bachelor of Science in Applied Biological Sciences – Pre-Dental, you'll be equipped with the knowledge, skills and experience needed to pursue an advanced degree in dentistry or a career in a dental-related field.
Selected Campus Locations:
How to become a Licensed Dental Hygienist in Louisiana—
---
Step 1. Graduate from a Dental Hygiene School
In order to attain eligibility to apply for dental hygienist licensure, you must first graduate from an American Dental Association (ADA) Commission on Dental Accreditation (CODA)-accredited dental hygiene school.
Dental hygiene schools in Louisiana may culminate in a certificate, an associate's degree, or a bachelor's degree. Although an associate's degree is the minimum necessary to apply for licensure in Louisiana, employers regularly look for job applicants with higher levels of education. In schools such as these, you may take courses such as the following:
Head and Neck Anatomy
Introduction to Dental Hygiene
Dental Anatomy
Radiography
Microbiology
Oral Pathology
Pain and Anxiety Control
Community Dental Health
After completing a degree, such as a bachelor's degree, in dental hygiene, you may be able to look for job opportunities in the following areas:
Dental Offices
Community Health
Hospitals
Industrial
Prison and Private Clinics
Research
Federal Programs
Armed Services
Professional Education
Dental Product Sales
---
Step 2. Take Required Examinations
As part of your application, you will need to send in to the Board your official scores from the National Board Dental Hygiene Examination, a Regional Exam, and the Louisiana State Jurisprudence exam.
National Board Dental Hygiene Exam
The passing scores for the National Board Dental Hygiene Examination (NBDHE), which is given by the Joint Commission on National Dental Examinations, will need to be sent to the Board as part of your application.
If you would like to apply for the exam, do the following:
Study the exam Guide
Attain a DENTPIN number
Apply to take the Examination
Schedule a Time, Date, and Location for Examination
After your application has been received by JCNDE, you will receive an email, which will designate instructions that you may follow to schedule your testing date, time, and location. A testing vendor for the NBDHE exam is Pearson VUE, who has sites at the following Louisiana locations:
Baton Rouge, LA
Metairie, LA
Shreveport, LA
Regional Examination
Along with passing the national exam, you will need to submit your official regional exam scores, which must be recent. If your scores are more than three (3) years old, they will not be considered as viable by the Board. As of 2012, Louisiana only allows you to take the regional exam with the following testing agency:
If you complete any of the other following regional examinations, it will not count toward your licensure, unless the exam was completed before 2012. However, if you have completed dental hygiene school more than six (6) months prior to your application for licensure, you must have each of the following testing agencies submit certification of whether you have or have not attempted to take an exam through the agency.
Jurisprudence Examination
After the Board has received your full application and fee, you may schedule to take the Jurisprudence exam.
This exam is a 100-question exam with true/false and multiple-choice questions. To pass, you must have at least 75 questions correct. The exam covers the Louisianan Dental Practice Act, and it is given in the Board office on Tuesdays and Thursdays at 10:00am. You must contact the Board to schedule the exam.
Test scores are valid for one year.
---
Step 3. Send Application to Louisiana State Board of Dentistry
There are two licensure application options. If you have never been licensed before, you will apply for licensure by examination. If you have been previously licensed, you will apply by credentials.
Licensure by Examination
To submit an application for licensure by examination, complete the following:
Submit Certification from CODA-accredited dental hygiene school
Submit National Board Dental Hygiene examination scores
Submit scores from the CITA regional exam
Pass the Jurisprudence Exam
Submit current CPR certification
Submit recent, passport sized photograph (with your name written and signed on the back)
Submit a certified, true copy of your U.S. birth certificate
Submit to a fingerprint background check
Submit Application for licensure
Check or money order for $250 application fee
Check or money order for $30 well being program fee
To complete the fingerprint background check, follow these guidelines:
Contact the Louisiana State Board for fingerprint cards
Take cards to local law enforcement agency to have fingerprints taken and immediately send fingerprints to the Louisiana State Board
OR
Take fingerprint cards and forms directly to the Louisiana State Police Headquarters, and pay the fee. The headquarters is located at the following address:

7919 Independence Boulevard
Baton Rouge, Louisiana 70806
Licensure by Credentials
Applying for licensure by credentials is a two-step process, in which you must submit two applications: the Louisiana State Board of Dentistry, and Professional Background Information Systems.
To submit the application, submit all of the above materials, and follow these steps:
Contact PBIS for Application Information
Submit $400 fee to PBIS
Submit Louisiana State Board Application
Submit $500 fee to the Board
Submit proof of previously held licensure
Submit National Practitioner Data Bank Report and HIPDB self query
Standard processing time for the Board is 30 days after receiving your completed application, and the Board will not assist with any rush orders. Your application must be submitted no later than thirty (30) days before the board meeting where your application will be considered.
---
Step 4. Fulfill Continuing Education to Renew Licensure
You must renew your license by December 31st on even numbered years.
To renew your license, you must first complete continuing education. Dental hygienists are required to take twenty-four (24) credits of continuing education every licensing period, and the credits must follow the following guidelines:
Twelve (12) must be clinical in nature
Of the twelve (12) clinical hours, six (6) must be personally attended
Of the remaining clinical hours, six (6) may be online or correspondence in nature, but they must require a final written exam.
The remaining twelve (12) hours may be either clinical or non-clinical in nature
You must submit, with your renewal form, a Continuing Education Reporting Form documenting that you have successfully completed the twenty-four (24) hours of continuing education.