Dental hygienists in Wisconsin are projected to see a boom in employment throughout the coming decade. The Bloomington greater metropolitan area currently ranks among the top-five metropolitan areas in the country with the highest number of employed dental hygienists, who earn a mean salary of over $72,000 with other Wisconsin cities close behind. Wisconsin's 4,600-plus dental hygienists are licensed and regulated by the Wisconsin Department of Safety and Professional Services' Dentistry Examining Board.
To earn a dental hygienist license through this agency you will need to complete the following:
---
Step 1. Complete an Approved Dental Hygiene Education Program
The first step you will take on the road to becoming a dental hygienist is education. To be eligible for a license you need to graduate from a dental hygiene education program in Wisconsin or another state that is accredited by the Commission on Dental Accreditation (CODA), an organization under the umbrella of the American Dental Association (ADA).
There are currently eight such dental hygiene schools in Wisconsin, located in:
Appleton
Eau Claire
Green Bay
Lac du Flambeau
Madison
Milwaukee
Pewaukee
Wausau
SPONSORED LISTINGS
Featured Programs:

Penn Foster's Dental Assistant career diploma program​ will teach you on-the-job skills like dental health procedures, office operations, dentistry terminology use, and more - so you can begin pursuing your career as a Dental Assistant.​
Selected Campus Locations:
Selected Programs: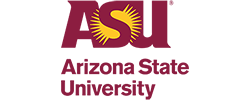 With ASU's Online Bachelor of Science in Applied Biological Sciences – Pre-Dental, you'll be equipped with the knowledge, skills and experience needed to pursue an advanced degree in dentistry or a career in a dental-related field.
Selected Campus Locations:
Dental hygienist education programs in Wisconsin are usually offered as an Associate's of Science Degree in Dental Hygiene. As you enroll in one of these programs you can expect to start by knocking out prerequisite courses such as:
English, psychology, sociology, or communication
Nutrition
Intro to biology and chemistry
Mid-level mathematics
Microbiology and biochemistry
Anatomy and physiology
As you advance further in the curriculum you will begin taking core dental hygiene courses such as:
Dental health safety
Oral embryology, histology, and anatomy
Dental radiography
Periodontology and cariology
Dental materials and tools
Dental pharmacology
Community dental health
Nutrition and oral health
Dental pain management
General and oral pathology
Dental hygienist clinical
The dental hygienist job description in Wisconsin allows for the option for qualified professionals to obtain permission to administer local anesthetic. If your education program includes a course in this subject then you will be eligible to apply for this expanded duty. If it does not include such a course you may also take a local anesthetic administration course at a later date if you choose.
---
Step 2. Pass the National Board Dental Hygiene Examination (NBDHE)
As you near the completion of your dental hygienist school you will be eligible to take the National Board Dental Hygiene Examination (NBDHE). Sponsored by the Joint Commission on National Dental Examinations (JCNDE), this exam is required of all candidates who want to become a dental hygienist in Wisconsin.
The exam content is made up of 350 multiple-choice questions that will evaluate your theoretical and practical knowledge in the following key areas of dental hygiene:
Assessment of patient characteristics
Assessment and interpretation of radiographs
Management and planning of dental care
Professionalism and responsibility
Clinical dental hygiene services
Research principles
Performance of periodontal procedures and supportive treatment
Use of preventative dental hygiene agents
You can take the NBDHE at locations throughout the country, including the following in-state cities:
Madison
Brookfield
Milwaukee
Kenosha
---
Step 3. Pass an Approved Clinical Dental Hygiene Exam
In addition to the NBDHE you will also need to pass a clinical dental hygiene exam that will evaluate you on your actual clinical performance. The Wisconsin Dental Examining Board recognizes the clinical dental hygiene exams sponsored by the following agencies:
COMBINED Regional Examination (CORE)
You can choose to take any one of these exams, and can expect to be graded on your performance of the following:
Patient assessment and comfort
Removal of calculus, plaque, and stain
Pocket depth measurements
Radiograph exposure
Teeth and gingival cleaning
Oral assessment
If you took a clinical exam that is sponsored by another state this may also fulfill the clinical exam requirement, but you will need to check with the Wisconsin Dental Examining Board.
---
Step 4. Apply for a Dental Hygienist License with the Wisconsin Dentistry Examining Board
Before you will be eligible for a license you must take care of two remaining requirements:
You must earn a CPR/AED certification
You must complete a Wisconsin exam on the laws pertaining to dental hygienists and dental practice
Open-Book Examination on Wisconsin Statutes and Administrative Code
You will need to pass this exam after you submit your application for licensure. The Dental Examining Board will send you an applicant ID and password you can use to login to a designated exam website and take this exam, which covers the following sections from the Wisconsin Statutes and the Administrative Code Relating to the Practice of Dentistry and Dental Hygiene:
DE 1, 2, 3, 5, 7, 13
SPS 2
Chapters 440 and 447
Making an Application
Once you have completed the steps up to this point you will be ready to submit an application for a dental hygienist license to the Wisconsin Department of Safety and Professional Services' Dentistry Examining Board. A complete application will include the following :
Your original score reports from your clinical dental hygienist exam
Your original score report from the NBDHE
Copy of your diploma from a CODA-accredited dental hygiene school and a Certificate of Professional Education
Completed online Wisconsin Statutes and Rules Exam
Proof of current CPR/AED certification
Letters of good standing from any other state's board of dentistry where you are licensed, if applicable
Detailed list of any outstanding convictions or pending charges, if applicable
The standard processing time for dental hygienist license applications can range between 7-15 business days. Once you have received your license you will be eligible to begin applying for dental hygienist jobs in Wisconsin.
Option to Apply for Permission to Administer Local Anesthesia
If you have completed an approved education program that deals with the administration of local anesthesia you will have the option to apply for this additional function as a dental hygienist. To apply for this permission you must submit the following:
If you did not complete an alveolar injection as part of your local anesthesia course but instead under the supervision of a dentist, you will also need to submit a Certification of Injection along with the other forms.
Out-of-State Dental Hygienists
If you are already a licensed dental hygienist in another state you will generally be eligible for licensure in Wisconsin if the state in which you are licensed has similar requirements to those of Wisconsin. Besides the requirements outlined up to this point, you will also need to demonstrate that you are currently licensed to practice as a dental hygienist in another state and that your license has not ever been suspended or revoked. You must also show that in the past year you have practiced dental hygiene for at least 350 hours.
---
Step 5. Keep Your Wisconsin Dental Hygienist License Up-to-Date
You will need to renew your license by September 30th of odd-numbered years, and you can complete this process online using your assigned username and password. Except for the first two years in which you have a license, you will need to earn at least 12 hours of continuing education to be eligible to renew your license.
You must earn at least two hours of continuing education that are related to infection control for each renewal period. In addition to study groups, acceptable ways of earning continuing education include attending relevant events that are sponsored by local, state, regional, national, or international organizations who represent:
Dental professional organizations
Dental hygiene professional organizations
Dental assisting professional organizations
Medical-related professional organizations
You will also need to maintain your CPR/AED certification, and you can fulfill up to two hours of your continuing education requirement by maintaining this certifications.
You can check with the Wisconsin Dental Hygienists' Association (WI-DHA) for the latest updates regarding legislation, professional events, and news from your new career field. Dental hygienist laws can and do change. New legislation passed in April of 2014 now allows dental hygienists to administer nitrous oxide.