The State of Mississippi Occupational Employment reports that between 2010 and 2020, the number of dental hygienist jobs will increase by 17.1%, creating 210 new job openings.
The Mississippi State Board of Dental Examiners examines, licenses, registers, and regulates professionals in the dental field to ensure high standards in practice and ethics. Dental hygienist may not legally practice in Mississippi without active licensure.
SPONSORED LISTINGS
Featured Programs:

Penn Foster's Dental Assistant career diploma program​ will teach you on-the-job skills like dental health procedures, office operations, dentistry terminology use, and more - so you can begin pursuing your career as a Dental Assistant.​
Selected Campus Locations:
Selected Programs: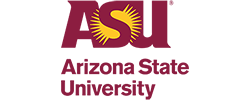 With ASU's Online Bachelor of Science in Applied Biological Sciences – Pre-Dental, you'll be equipped with the knowledge, skills and experience needed to pursue an advanced degree in dentistry or a career in a dental-related field.
Selected Campus Locations:
To become a licensed dental hygienist in Mississippi, follow these simple steps:
---
Step 1. Earn an Associate's Degree in Dental Hygiene
You must be a graduate of a Commission on Dental Accreditation (CODA)-accredited dental hygiene school. There are at least five (5) dental hygiene schools in Mississippi, which offer certificates, associate's degrees, and bachelor's degrees.
In programs such as these, you can expect to take courses such as the following:
Dental Hygiene Instrumentation
Medical Terminology
Dental Anatomy and Occlusion
Radiology
Oral Histology
Scientific Foundations
Dental Hygiene Principles
Pathophysiology
Preventive Dentistry
Anxiety and Pain Medicine
Biomaterials in Dentistry
If you are not a graduate from a CODA-accredited school, you must be at least 18 years old, proficient in English, and complete the following:
Completed no less than two (2) academic years of study and graduated from a foreign, accredited dental hygiene school
Had been licensed as a dental hygienist in the foreign country
Complete at least one or more years of clinical education in a CODA-accredited dental hygiene school, and have school certify that your knowledge meets graduation standards
Complete National Board Dental Hygiene Exam
---
Step 2. Pass Examinations
National Board Exam
You must pass the National Board Exam and submit the official scores as part of your dental hygienist licensure application. The National Board exam is overseen by the American Dental Association (ADA) Joint Commission on National Dental Examinations.
To take the National Board Dental Hygiene Examination (NBDHE), you must either:
Graduate from a CODA-accredited Dental Hygiene school
OR
Graduate from a non-accredited program, and submit these materials:
Letter from the dean
Letter from the secretary of a Board of Dentistry in the U.S. licensing jurisdiction
Official Dental School transcripts
To apply to take the NBDHE exam, you must complete the following steps:
Read the Guide
Register for a Dental Personal Identifier Number (A DENTPIN)
Submit $400 fee
Schedule time, date, and location for examination
The Pearson VUE testing center, is offered as a testing center for this exam, and they offer tests in the following Mississippi cities:
There is a sample test for the Dental Hygiene Exam, which you can find here.
Examination by the Board
The second exam you must pass is examination by the Board. The Board, previous to 2012, administered CITA's clinical exam. However, since 2013, the Board only administers the American Board of Dental Examiners (ADEX) clinical exam.
The exams offered are as follows:
Dental Hygiene Exam
Local Anesthesia Exam
Nitrous Oxide Exam
The Dental Hygiene Exam includes the following five components:
Computerized Exam in Applied Diagnosis
Endodontic Clinical Exam
Fixed Prosthodontic Clinical Exam
Restorative Clinical Exam
Periodontal Clinical Exam
You must complete all components of the ADEX Dental Hygiene Clinical exams with a score of 75% or higher in order to apply for licensure.
CDCA provides an Exam Calendar which designates the dates, times, and locations you may take the exam. You may find information about and manuals on this exam on the Commission on Dental Competency Assessments (CDCA) website.
Although the Board only administers the ADEX exam, the Board will accept scores from the following clinical exams:
Jurisprudence by the Board
The Mississippi Jurisprudence exam is based on dental laws and regulations. After the Board receives your application for licensure, they will notify you concerning this exam. You must complete it with a score of 75% or higher in order to pass.
---
Step 3. Submit Application
If you have just graduated from a dental hygiene school and are applying for licensure, you will apply by examination. If you have been previously licensed and working as a dental hygienist in another state, you will apply through credentials.
Examination – To apply, submit the following materials:
Licensure by Examination Application
Application Fee $150
Professional History (for past ten (10) years)
College/University/Dental Hygiene School Official Transcripts
Official National Board Scores
Official ADEX/CDCA Scores, if requested
Self-query from the National Practitioner Data Bank (NPDB) and Healthcare Integrity and Protection Data Bank (HIPDB) (if applicable)
Proof of Liability Insurance Coverage
CPR Certification
Credentials – To apply, submit the following materials:
Fill out application by credentials
$750 Application fee
Written statement that you will appear before the Board for an interview after Board has received completed application
Official transcripts from all dental hygiene schools attended
Official National Board scores
Self-made self-query from the National Practitioner Data Bank (NPDB) and Healthcare Integrity and Protection Data Bank (HIPDB)
Official licensure from any other state
Proof of professional liability insurance coverage
Proof of Continuing Education Programs
CPR Certification
Three (3) patient references (names, addresses, phone numbers)
Jurisprudence Exam
---
Step 4. Complete Continuing Education
You must renew at some point starting sixty (60) days before November 1st every two years.
To renew, you must complete twenty (20) hours of documented, approved continuing education each renewal cycle. Approved courses include courses approved by the following institutions:
Mississippi Dental Hygienists' Association (MDHA)
American Dental Hygienists' Association (ADHA)
American Dental Association (ADA)
Mississippi Dental Association (MDA)
Mississippi Dental Society (MDS)
Academy of General Dentistry (AGD)
National Dental Association (NDA)
Course hour requirements and restrictions are as follows:
No more than four (4) hours per year may be earned for CPR courses (totaling eight (8) hours per renewal cycle)
No more than eight (8) hours per year may be documented for Advanced Cardiac Life Support (ACLE) courses (totaling 16 hours per renewal cycle)
No more than four (4) hours per year may be documented for an ACLS course, general anesthesia review course, or equivalent course (totaling eight (8) hours per renewal cycle)
A maximum of ¼ of the continuing education credits may be documented from computer-based coursework per renewal cycle
You must document and keep copies of examinations, coursework, date, time, location, and number of hours for at least the past three (3) years of your continuing education coursework, which you should be able to shown to the Board at any time.
After completing continuing education, you may renew by submitting the online renewal form through Mississippi's E-Commerce Portal and submit the $100 fee. To fulfill the online form, you will need to submit the information that is emailed to you at the beginning of the renewal period:
Licensure Number (or Permit Number for a Radiology Permit Renewal)
Unique ID
After this, follow the step-by-step renewal instructions provided by the Board.