The U.S. Bureau of Labor Statistics reported that 580 dental hygienists were employed throughout North Dakota as of 2013. Further, the job outlook in the state is exceptional with the North Dakota Workforce Intelligence Network forecasting a 33% increase in the number of dental hygienist jobs between 2012 and 2022.
As a dental hygienist in North Dakota, you will provide a variety of patient services and education, as outlined by state regulations.
SPONSORED LISTINGS
Featured Programs:

Penn Foster's Dental Assistant career diploma program​ will teach you on-the-job skills like dental health procedures, office operations, dentistry terminology use, and more - so you can begin pursuing your career as a Dental Assistant.​
Selected Campus Locations:
Selected Programs: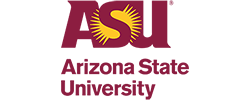 With ASU's Online Bachelor of Science in Applied Biological Sciences – Pre-Dental, you'll be equipped with the knowledge, skills and experience needed to pursue an advanced degree in dentistry or a career in a dental-related field.
Selected Campus Locations:
The North Dakota State Board of Dental Examiners is responsible for the licensing of dental hygienists throughout the state. To become a licensed dental hygienist in the state of North Dakota, you must complete the following steps:
---
Step 1. Graduate from an ADA-Accredited Dental Hygiene School
If you are interested in becoming a dental hygienist in the state of North Dakota, you must complete a training program at a school accredited by the Commission on Dental Accreditation (CODA). There is one accredited college offering dental hygienist programs in the state of North Dakota in the city of Wahpeton. Several accredited online programs also offer dental hygienist training at both the associate's and bachelor's level.
The dental hygienist program available in North Dakota is a five semester associate's degree program, the minimum degree required for dental hygienist licensing in the state.
In order to be admitted to a dental hygiene associate's degree program, the following prerequisites must be met:
High School transcript
ACT score of at least 19
8 hours of dental hygienist observation
Completion of the Health Occupations Basic Entrance Test
Special immunizations, CPR training, and eye exam
In addition, you will be required to complete several prerequisite courses:
Chemistry
Anatomy and Physiology
College Composition
The dental hygiene curriculum is a mix of classroom, laboratory, and clinical experience. Some coursework includes:
Oral anatomy
Oral embryology and histology
Dental radiology
Periodontics
Head and neck anatomy
Local anesthesia
Oral pathology
Community dental health
Dental jurisprudence
Dental materials
Most clinical work is undertaken in the school's own dental clinic. In addition, you will be assigned to off-campus sites affiliated with the school.
---
Step 2. Complete the National Exam and Regional Clinical Exam
In order to meet the licensing requirements of the North Dakota Board of Dental Examiners, you will are required to complete both a board-approved national examination and a regional clinical exam.
The National Board Dental Hygiene Examination can be scheduled 60 to 90 days in advance through the Joint Commission on National Dental Examinations. Tests are administered through Pearson VUE test centers. You can find test centers in both Bismarck and Fargo. The testing fee is $400.
The North Dakota State Board of Dental Examiners requires that you also complete a regional clinical exam through one of the following agencies:
These clinical examinations provide proof of knowledge in stand dental hygienist procedures and practices. You can look up testing site information on the websites for each agency. In addition, your dental hygienist school will likely provide additional information and testing opportunities.
---
Step 3. Submit Application to the North Dakota State Board of Dental Examiners
As an applicant for dental hygienist licenses in North Dakota, you are required to submit an application for review by the North Dakota Board of Dental Examiners. The following items must be included in the application:
Notarized application form
$200 application fee
Copy of high school diploma
Official transcript from completed dental hygienist program
National board exam results. A copy is acceptable.
Regional clinical exam results
3 completed confidential professional references. References should include licensed dentists or other professionals.
Background and fingerprint check
Photo
In addition, you will be required to undergo a physical examination, as well as an eye exam. Forms can be signed by either a doctor or a nurse practitioner. These exams should have taken place within two years of the application date.
---
Step 4. Complete Jurisprudence Examination
When applying for licensure in North Dakota, you will also be required to participate in a jurisprudence examination. This is to ensure that applicants understand the North Dakota Century Code as it applies to dental hygienists.
If you attend a dental hygienist program in North Dakota, you will be administered the jurisprudence examination through your school. You may also take the exam on the day of your board review and interview.
---
Step 5. Take Continuing Education Coursework
As a licensed dental hygienist in North Dakota, you must complete a minimum of 16 hours of continuing education every two years. Continuing education must include the following:
1 CPR course
2 hours of infection control
2 hours of ethic of jurisprudence
Up to 8 hours of continuing education can be obtained through online education or publications review. The North Dakota Dental Hygienists' Association provides information and opportunities for continuing education.