The field of dental hygiene in Washington offers growing career options in a state that provides the third-highest average annual salary in the nation. Washington also offers some of the most advanced education opportunities for dental hygienists of any state in the country. Dental hygienists are licensed by the state's Board of Health in conjunction with the Dental Hygiene Credentialing department.
To earn a dental hygienist license in Washington you will need to navigate the following steps:
---
Step 1. Graduate from an Approved Dental Hygienist Education Program
The first and foundational step you need to complete is to graduate from a dental hygiene education program that is approved by the Commission on Dental Accreditation (CODA), an affiliate of the American Dental Association (ADA).
There are at least 10 of these dental hygiene schools in Washington, located in the cities of:
Bellingham
Kirkland
Lakewood
Pasco
Seattle
Shoreline
Spokane
Vancouver
Yakima
SPONSORED LISTINGS
Featured Programs:

Penn Foster's Dental Assistant career diploma program​ will teach you on-the-job skills like dental health procedures, office operations, dentistry terminology use, and more - so you can begin pursuing your career as a Dental Assistant.​
Selected Campus Locations:
Selected Programs: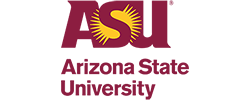 With ASU's Online Bachelor of Science in Applied Biological Sciences – Pre-Dental, you'll be equipped with the knowledge, skills and experience needed to pursue an advanced degree in dentistry or a career in a dental-related field.
Selected Campus Locations:
In the entire nation only Washington and one other state offer such wide range of the following CODA-accredited degree programs for prospective dental hygienists:
Associate's of Science (AS) Degree in Dental Hygiene
Bachelor's of Science (BS) Degree in Dental Hygiene
Master's of Science Degree in Dental Hygiene (MS in Oral Biology)
Doctoral Degree in Dental Hygiene (PhD in Oral Biology)
As you start out as a new dental hygienist student you can expect a typical curriculum of study that will start with prerequisites and move on to more dental hygiene-specific courses such as the following:
Nutrition
Basic biology and chemistry
Psychology and sociology
Microbiology
Intermediate mathematics
Anatomy and physiology
Head, neck, and dental anatomy
Pharmacology for the dental hygienist
Radiography
Histology and embryology
Pain control, local anesthetic, and the administration of nitrous oxide
Periodontology
Ethics and jurisprudence
Community dental health
Restorative functions
Dental hygienist clinical
Option for Expanded Functions
Many CODA-approved dental hygiene education programs in Washington will include coursework that will make you eligible for optional expanded functions. The dental hygienist job description in Washington allows for expanded functions in three fields, provided you complete coursework for each of these areas that includes a curriculum which evaluates didactic and clinical competency:
Administration of local anesthetic
Administration of nitrous oxide-oxygen analgesia
Restorative dentistry in two areas, each requiring a separate course of study:

Placement of restorations into cavities
Carving, contouring, and adjusting occlusions and contacts of restorations
If your dental hygiene education program did not include one of these courses and you would like to earn permission in the given area, you can find a list of approved supplemental courses to take on page 15 of the license application packet.
---
Step 2. Pass the Dental Hygiene National Board Exam (NBDHE)
The National Board Dental Hygiene Exam (NBDHE) is administered by the Joint Commission on National Dental Examinations (JCNDE). You will become eligible to take this exam as you near the completion of your CODA-accredited dental hygiene program. The NBDHE's content is comprised of 350 multiple-choice questions divided into two segments:
First Segment – comprised of 200 questions covering the theory of:
Scientific basis of dental hygiene
Research principles and community health
Clinical dental hygiene services
Second Segment – comprised of 150 questions that are specific to 12-15 hypothetical patient scenarios involving:
Assessment of patient dental hygiene needs
Professional responsibility
Performance of periodontal procedures
Exposure and interpretation of radiographs
Use of preventative materials
Dental hygiene management
Supportive dental hygiene services
---
Step 3. Pass an Approved Dental Hygienist Clinical Examination
As an additional part of the testing to become a dental hygienist in Washington you will need to complete one of the clinical examinations sponsored by any of the following agencies:
A typical clinical exam will include an evaluation of your performance in a clinical setting of the following dental hygienist duties:
Periodontal evaluation and cleaning
Exposure of radiographs
Removal of calculus, plaque, and stains
Measurement of pockets
Depending on your CODA-accredited dental hygienist education program, you may also be required to take an exam offered by one of these agencies to complete the requirements for permission to perform expanded functions. You will be informed of this requirement by your dental hygienist education program, and may possibly need to take:
WREB's Anesthesia Exam
WREB's Restorative Exam
---
Step 4. Complete Remaining Requirements for a Washington License
Before you will be eligible for a dental hygienist license you must also complete the following remaining requirements:
BLS Requirement
Basic Life Support (BLS) for Healthcare Providers certification through the American Heart Association.
AIDS Training Requirement
For this requirement you will need to complete at least seven hours of AIDS training that may include:
Formal training
Self-study
Formal courses
Direct patient care
This training can cover subjects such as:
Epidemiology
Counseling and testing
Legal and ethical issues
Clinical treatment and manifestations
Infection control
Psycho-social issues
Washington State Dental Hygiene Drug and Law Exam (WSJ)
This exam covers the rules and laws that relate to the practice of dental hygiene and dentistry in general. You will specifically tested over the following:
This test is offered through the Dental Assisting National Board (DANB) and you must obtain a passing score of at least 90 percent. Registration information for this exam is contained in the application packet on pages 25-32.
---
Step 5. Apply for a Washington State Dental Hygienist License
Once you have achieved all the required qualifications you can make an application for licensure through the Washington State Department of Health. This agency will work in conjunction with the state's Dental Hygiene Credentialing department, with this latter agency being responsible for processing third-party verification documents such as your official transcripts and testing scores. Detailed submission information is included in the application packet.
A complete application for licensure must include the following:
Official transcripts from your dental hygienist education program, sent by your school directly to the Dental Hygienist Credentialing department
Verification that you have passed the required NBDHE and clinical exams
Full professional résumé
Any out-of-state dental hygienists licenses or credentials
Attestation that you have completed the required AIDS training
Confirmation that you have passed the Washington State Dental Hygiene Drug and Law Exam, sent directly to the Dental Hygiene Credentialing department from the DANB
Out-of-State Experienced Dental Hygienists
As an experienced dental hygienist from another state you may qualify for licensure in Washington. To do this you must have completed the above requirements as well as be currently licensed and practicing in another state. If you choose to pursue licensure via this route you will be subject to the in-state requirements to perform expanded functions.
Initial Limited License
If you are an out-of-state experienced dental hygienist you may also qualify for an Initial Limited License that will allow you to perform expanded functions. This Initial Limited License is valid for 18 months, and to be eligible for this you must:
Hold a license in another state that allows for a similar scope of practice as the expanded duties you are seeking in Washington
Have worked at least 560 hours as a dental hygienist in the preceding 24 months
---
Step 6. Maintain Your Washington Dental Hygienist License
You will need to renew your dental hygienist license every year before your birthday. As part of the renewal requirements you must to earn at least 15 hours of continuing education annually. This should be directly related to the services you provide as a dental hygienist. You will also need to maintain your Basic Life Support (BLS) for Healthcare Providers certification through the American Heart Association.
Because of the wide array of educational opportunities for dental hygienists in Washington State, one option for fulfilling the annual continuing education requirements is to take college courses towards a more advanced degree.
More information about continuing education and dental hygienist jobs in Washington can be found with local organizations such as the Washington State Dental Hygienists' Association (WSDHA).
Renewing an Initial Limited License
To renew this license and convert it to a normal dental hygienist license you must:
Verify that you have earned a passing score on an approved clinical examination
Verify that you have passed the WREB Anesthesia examination
Verify that you have completed appropriate didactic and clinical training in the administration of local anesthetic and nitrous oxide