As of 2013, Missouri is the home to 2,820 dental hygienists, and the Missouri Economic Research and Information Center states an expectation for the job of dental hygienists in Missouri to grow by 26.69% by the year 2022, opening up a total of 1,466 new jobs.
The Missouri Dental Board is a division of the Missouri Division of Professional Registration, and it determines the licensure standards for the dental field in the state. The Board recognizes that dental hygienist may not legally practice without licensure.
SPONSORED LISTINGS
Featured Programs:

Penn Foster's Dental Assistant career diploma program​ will teach you on-the-job skills like dental health procedures, office operations, dentistry terminology use, and more - so you can begin pursuing your career as a Dental Assistant.​
Selected Campus Locations:
Selected Programs: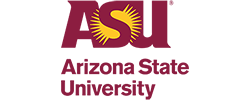 With ASU's Online Bachelor of Science in Applied Biological Sciences – Pre-Dental, you'll be equipped with the knowledge, skills and experience needed to pursue an advanced degree in dentistry or a career in a dental-related field.
Selected Campus Locations:
Learn how to become a licensed dental hygienist in Missouri by following these steps:
---
Step 1. Earn an Associate's Degree in Dental Hygiene
To apply for a dental hygiene licensure, you must complete a minimum of two (2) academic years at a Commission on Dental Accreditation (CODA)-accredited dental hygiene school, resulting in at least an Associate's degree.
There are eight (8) dental hygiene schools in Missouri, which offer dental hygiene associate's and bachelor's degrees. Although an associate's degree is the minimum necessary to apply for licensure, employers regularly search for candidates with higher education.
After completion of a dental hygiene program, you should be able to perform the following duties:
Recognize and apply ethical dental concepts
Research clinical and dental information
Provide care sensitively to a diverse population
Asses, plan, implement, and evaluate dental plans for individuals and communities
Be capable of handling dental medical emergencies and providing life support
---
Step 2. Pass National, Competency, and Dental Law Examinations
There are three exams that you will have to pass in order to apply for dental hygiene licensure, which are the National Board exam, the Competency or Regional exam, and the Missouri State Law (Jurisprudence) exam.
National Board Exam
For your application, you will need to submit official scores from the National Board exam. The National Board exam is administered by the American Dental Association (ADA) Joint Commission on National Dental Examinations.
Eligibility for the National Board Dental Hygiene Examination (NBDHE), comes in two forms. You must fulfill one of the following requirements:
Graduate from a CODA-accredited Dental Hygiene school
OR
Graduate from a non-accredited program, and submit these materials:
Letter from the school's dean
Letter from the secretary of a Board of Dentistry
Official Dental School transcripts
Application to the NBDHE exam may be achieved by doing the following steps:
Read the NBDHE Guide
Register for a Dental Personal Identifier Number (A DENTPIN)
Apply for examination
Submit $400 application fee
Schedule time, date, and location for examination
The Pearson VUE testing center is offered as a testing center for this exam. You may find Pearson VUE exam sites in or near Missouri here:
Columbia, MO
Louis, MO
Springfield, MO
Kansas City, MO
Overland Park, KS
Springfield, IL
Marion, IL
Memphis, TN
The Dental Hygiene Exam sample exam may be found here.
Competency Exam
The second exam you must pass in order to apply for licensure is a regional competency exam. Missouri accepts scores from many different testing centers, including the following:
CDCA provides an Exam Calendar which designates the dates, times, and locations you may take the exam. You may find information about and manuals on this exam on the CDCA website.
CITA provides an exam calendar, stating the dates, locations, application and retest application deadline.
SRTA offers an exam calendar signifying the exam locations, dates, and application deadlines for SRTA exams.
CRDTS provides an exam calendar, as well, which signifies which dates, sites, and cities the exams in which are offered.
Missouri Jurisprudence Examination
The Missouri Jurisprudence exam is an open-book, 50-question test focuses on Missouri laws and regulations related to the practice of dental hygiene. You may get a copy of the Board rules by contacting the Board office at (573) 751-0040.
After all of your application materials and fees have been submitted, the Board will contact you concerning how to proceed with the Jurisprudence exam. If eligible, you may be able to take it through a secure, Missouri Dental Board website.
To pass, you need to attain an 80% or higher on the exam.
---
Step 3. Submit Licensure Application
When applying for licensure, you will need to submit the following documents and materials:
$155 fee
Recent Photograph (space provided on application)
Official Transcript(s)
Official National Board Scores
Competency Exam Scores
Current CPR Certification
If you are submitting a licensure by credentials, you need to currently hold a dental hygienist license from another state for the previous two years. If you hold this licensure, you must also submit official licensure verification from the other state(s) in which you hold licensure. This verification must come directly from the other state to the Missouri Dental Board.
You may turn everything into the following address:
Missouri Dental Board
3605 Missouri Boulevard
P.O. Box 1367
Jefferson City, MO 65102
---
Step 4. Continue Education to Retain Licensure
Every two years, you will have to renew your license. As part of the renewal process, you will need have proof of taking at least thirty (30) continuing education credit hours.
No less than twenty-five (25) hours may be devoted to non-clinical education. If you complete more than the required thirty (30) hours, up to fifteen (15) hours may carry over into the next renewal cycle period.
The approved sponsoring organizations for continuing education are including, but not limited to, the following—
American Dental Association
Academy of General Dentistry
National Dental Association
American Dental Hygienists' Association
National Dental Hygienists' Association
American Medical Association and American Osteopathic Association
American Nurses Association
ADA Commission on Dental Accreditation approved dental, dental hygiene, and dental assisting schools
ADA continuing education recognition program
AGD national sponsor approved program
Federal and state government agencies
Hospitals accredited by the Joint Commission on Accreditation of Healthcare Organizations
After you attain licensure, if you want to administer nitrous oxide or local anesthesia, you will need to attain a permit and submit the further documentation and fees.