According to the most recent count in 2014, there were 4,240 dental hygienists practicing throughout Virginia. This field is expected to experience higher-than-average growth over at least the coming decade, which is one of the reasons why more professionals are looking into pursuing a career as dental hygienists.
With licensure controlled by the state's Board of Dentistry, candidates who want to become a dental hygienist in Virginia must complete the following steps:
---
Step 1. Complete an Approved Dental Hygienist Education Program
State regulations require that to be eligible for licensure as a dental hygienist, you must graduate from a dental hygiene education program in Virginia or out-of-state that is accredited by the American Dental Association's (ADA) Commission on Dental Accreditation (CODA).
There are at least six of these dental hygiene schools in Virginia, located in:
Hampton
Norfolk
Richmond
Roanoke
Springfield
Wytheville
SPONSORED LISTINGS
Featured Programs:

Penn Foster's Dental Assistant career diploma program​ will teach you on-the-job skills like dental health procedures, office operations, dentistry terminology use, and more - so you can begin pursuing your career as a Dental Assistant.​
Selected Campus Locations:
Selected Programs: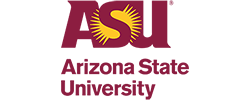 With ASU's Online Bachelor of Science in Applied Biological Sciences – Pre-Dental, you'll be equipped with the knowledge, skills and experience needed to pursue an advanced degree in dentistry or a career in a dental-related field.
Selected Campus Locations:
CODA-approved dental hygienist programs can be offered as certifications, Associate of Science (AS) degrees, and Bachelor of Science (BS) degrees. Because dental hygienists are required to have specialized scientific knowledge, the academic program will often begin with prerequisite courses such as:
Microbiology
Human anatomy and physiology
Intermediate mathematics
Psychology and sociology
Nutrition
English and communication
After completing prerequisites you can expect to take courses focused directly on the many facets of dental hygiene, such as:
Dental hygienist oral radiography
Practical materials and tools for the dental hygienist
Public health dental hygiene
Alleviation of dental pain and anxiety
Dental office management and professional ethics
Pharmacology
Head and neck anatomy and histology
Oral anatomy
Dental hygienist periodontics
Dental hygienist practicum and clinical experience
---
Step 2. Consider Additional Optional Dental Hygienist Qualifications
As you choose which dental hygienist education program you want to complete, keep in mind that obtaining some of the following optional dental hygienist qualifications will require you to complete CODA-accredited courses in the appropriate subject areas. Some certification, AS, or BS dental hygienist education programs may include these courses:
Option to Administer Local Anesthesia and Nitrous Oxide
If you would like to obtain permission to carry out these duties you must complete an associated didactic and clinical course that culminates in a final exam and includes at least 36 hours of study in the subjects of:
Patient psychological and physical assessment
Record keeping and medical history evaluation
Anatomical issues regarding the administration of local anesthesia
Pharmacology of vasoconstrictors and local anesthetics
Local and systematic complications arising from anesthesia
Management of medical emergencies
Mandibular infiltration techniques
Pharmacology of nitrous oxide
If you are an out-of-state experienced dental hygienist with similar privileges you may be eligible to transfer these to Virginia.
Option to Monitor Patients Under Deep Sedation or General Anesthesia
As a dental hygienist, a dentist may delegate you as being responsible for monitoring a patient under deep sedation or general anesthesia if you have completed training in monitoring the following areas:
EKG readings
Baseline vital signs
Temperature
Blood pressure
Oxygen saturation
Pulse
Respiration
---
Step 3. Pass the National Board Dental Hygiene Examination
The National Board Dental Hygiene Examination (NBDHE) is required of most dental hygienists in the country, including all of those wishing to practice in Virginia. Administered by the Joint Commission on National Dental Examinations (JCNDE), you can take this exam at testing locations across Virginia in the following cities:
Lynchburg
Glen Allen
Richmond
Roanoke
The content of the NBDHE is comprised of 350 multiple-choice questions that cover the clinical application and theoretical knowledge of the following subjects:
Assessment of patient characteristics
Practice of dental hygiene and science
Interpretation and development of radiographs
Management and planning of dental hygiene care
Research principles and community health
Performance of periodontal procedures
Use of preventative agents
Support treatment
Professional responsibility and ethics
---
Step 4. Pass a Clinical Exam from an Approved Regional Provider
You will also need to complete dental hygienist clinical testing before you will be eligible for licensure in Virginia. The state's Board of Dentistry recognizes any one of the dental hygienist exams offered by the following agencies as fulfilling the clinical testing requirement:
A clinical exam will evaluate your performance of the basic skills associated with the dental hygienist job description. This includes your performance in the areas of:
Removal of sub-gingival and supra-gingival calculus, coronal plaque, and stains
Anterior and posterior pocket measurement
Radiograph exposure and interpretation
Oral prophylaxis
Periodontal assessment
Out-of-state experienced dental hygienists can meet the clinical testing requirement by having taken a clinical exam from one of these regional providers, or from having taken a state-administered clinical exam.
---
Step 5. Apply for a Dental Hygienist License with the Virginia Board of Dentistry
All candidates will need to submit, or arrange for the submission of, the following to the Virginia Board of Dentistry with their online application:
Proof of graduation from a CODA-approved dental hygiene education program
Original transcript from your CODA-approved education program
Complete résumé of your activities since you graduated from your approved dental hygienist school
An original NBDHE score report from the JCNDE
An original score card or report from the agency that offered your regional clinical exam
Current self-queried report from the National Practitioner Data Bank (NPDB)
$175 application fee for new applicants
Experienced Out-of-State Dental Hygienist Applicants
If you are an out-of-state dental hygienist qualifying for a license based on your credentials you will need to include the following additional materials with your online application:
$275 application fee
Original licensure verification from any out-of-state jurisdictions where you have held a dental hygienist license
Original score report from any state-sponsored clinical examinations, if applicable
Proof of holding a current dental hygienist license in another state
Proof of practicing as a dental hygienist for at least 24 of the prior 48 months
Notarized statement from all of your dental employers for the past four years which confirms your dates of employment as well as your clinical, ethical, and legal practice of dental hygiene
You can complete the application process online with Virginia Board of Dentistry. Your license may be issued in as soon as 10 business days from the time the Board receives all required material. You can check online to see if the Board has issued your license. Once your license has been issued you may begin applying for dental hygienist jobs in Virginia.
---
Step 6. Maintain Your Virginia Dental Hygienist License
Your dental hygienist license will need to be renewed every year and expires on March 31st. The Virginia Board of Dentistry will notify you at least one month before this date approaches and you will be responsible for either completing a renewal application by mail or submitting it online.
As a requirement for license renewal, you will need to maintain at least 15 hours of approved continuing education every year. If you earn in excess of this amount you may carry this over to one additional renewal period.
Continuing education must be relevant to your treatment and care of patients, such as:
Clinical courses in dental practice
Study or coursework focusing on legal/ethical responsibilities, patient management, and stress management
Relevant audio or video presentations
Continuing education that is sponsored by any of the following agencies:
If you have obtained permission to monitor patients under general anesthesia or conscious sedation you will additionally need to earn four hours of continuing education that is directly related to this area of practice every two years.
One way of fulfilling your continuing education requirements is to earn a more advanced degree in dental hygiene, such as a bachelor's of science in dental hygiene.
In addition to the professional agencies that sponsor continuing education, you can find local resources regarding legislation in the dental field, upcoming professional development activities, and employment opportunities through organizations such as the Virginia Dental Hygienists' Association (VDHA).