The Ohio Department of Job and Family Services reported that there were 7,441 dental hygienists employed throughout the state as of 2010. The Department projects a 26.3% increase in the number of dental hygienist jobs in Ohio by 2020. This equates to an average of about 345 dental hygienist jobs becoming available in the state each year.
Dental hygienists in the state of Ohio are responsible for a wide array of patient care and examination procedures. In an effort to maintain and promote good oral health, they are also responsible for educating patients on proper dental hygiene.
SPONSORED LISTINGS
Featured Programs:

Penn Foster's Dental Assistant career diploma program​ will teach you on-the-job skills like dental health procedures, office operations, dentistry terminology use, and more - so you can begin pursuing your career as a Dental Assistant.​
Selected Campus Locations:
Selected Programs: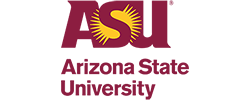 With ASU's Online Bachelor of Science in Applied Biological Sciences – Pre-Dental, you'll be equipped with the knowledge, skills and experience needed to pursue an advanced degree in dentistry or a career in a dental-related field.
Selected Campus Locations:
In order to become a dental hygienist in Ohio, you must qualify for a license through the Ohio State Dental Board by completing these steps:
---
Step 1. Graduate from an ADA-accredited School of Dental Hygiene
If you are interested in pursuing a career as a dental hygienist in Ohio, you must possess a minimum of an associate's degree in dental hygiene from an accredited school. While an associate's degree is the minimum, bachelor's degree programs are also available.
There are 12 schools in Ohio with dental hygienist programs accredited by the Commission on Dental Accreditation (CODA). You can find schools in several major cities throughout the state, including Cincinnati, Columbus, Akron, and Cleveland, in addition to online programs.
Dental hygienist programs prepare students to provide quality care to dental patients through a variety of coursework and clinical practice. Many programs require prerequisites. Some suggested prerequisites might include:
Anatomy and physiology
Microbiology
Public Speaking
English composition
College-level math
Psychology
At the associate's level, coursework in dental hygiene programs typically include:
Oral Anatomy
Periodontology
Oral Health and Disease Prevention
Oral Materials
Oral Pathology
Integrated Dental Hygiene Science
Practice Management
You can also expect to complete more than 1,000 hours of clinical practice, including direct contact with patients within a clinic or dental practice.
---
Step 2. Pass the National Board Dental Hygiene Examination
An accredited dental hygienist program will also prepare you to pass the National Board Dental Hygiene Examination, a requirement for dental hygienist licensure in Ohio.
The National Board Dental Hygiene Examination will include both a discipline-based and case-based portion designed to assess your knowledge in biomedical and dental hygiene sciences.
This exam is offered through Pearson VUE, and can be scheduled anywhere from 60 to 90 days in advance. Test Centers can be found throughout the state, including the cities of Columbus and Westlake. The cost for the exam is $400.
---
Step 3. Pass a Regional Clinical Examination
You will also be required to complete a regional clinical examination in order to apply for a dental hygienist license in the state of Ohio.
There are four regional clinical exam providers recognized by the Ohio State Dental Board:
Many dental hygienist programs in Ohio include testing for the approved regional clinical examinations.
---
Step 4. Pass the Ohio Jurisprudence Examination
You will also be required to complete the Ohio jurisprudence examination for dental hygienists.
This multiple-choice exam will cover the rules and regulations outlined in the Ohio Dental Practice Act.
The jurisprudence exam is available online. You can print out the questions and answers sheet and submit the completed document along with your application to the Ohio State Dental Board.
---
Step 5. Submit a Completed Application to the Ohio State Dental Board
When applying for dental hygienist licensing in Ohio, you will be required to submit an array of application materials to the Ohio State Dental Board, including:
A completed application form
Application fee of $147 if you are being reviewed in an even-numbered year or $96 if you are being reviewed in an odd numbered year.
An original copy of the National Board "Final Report Card," which gives your scores for the national examination
The results of your criminal background check performed through the Ohio Bureau of Criminal Investigation and Identification. You can find vendors throughout the state that process this background check.
Letters of recommendation
A physical examination, including proof of immunization
A full color, front facing photo
You must submit your application at least 30 days prior to next scheduled meeting of the Ohio State Dental Board. The Board meets 8-9 times a year and the calendar is available online.
---
Step 6. Maintain Your Ohio Dental Hygienist License
As a dental hygienist in the state of Ohio, you will be required to take 24 credit hours of continuing education courses per license renewal period and complete the Continuing Education Log.
Continuing Education courses must be taken through an Ohio State Dental Board approved sponsor. Some examples of approved sponsors offering dental hygienist continuing education coursework include:
American Dental Association (ADA)
ADA-affiliated dental specialty organizations
Accredited dental hygiene schools
Many of these sponsors offer continuing education courses in both classroom based and online formats.