The New Hampshire Board of Dental Examiners recognizes dental hygienists in the State as licensed professionals responsible for providing dental hygiene services, including:
Assessing medical and dental histories
Assessing the patient and collecting and evaluating data to determine their dental hygiene care needs
Removing calculus deposits, excess cement, excess bond materials from orthodontic appliances, and stains from the surfaces of the teeth through scaling, root planing, and polishing
SPONSORED LISTINGS
Featured Programs:

Penn Foster's Dental Assistant career diploma program​ will teach you on-the-job skills like dental health procedures, office operations, dentistry terminology use, and more - so you can begin pursuing your career as a Dental Assistant.​
Selected Campus Locations:
Selected Programs: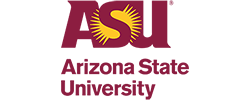 With ASU's Online Bachelor of Science in Applied Biological Sciences – Pre-Dental, you'll be equipped with the knowledge, skills and experience needed to pursue an advanced degree in dentistry or a career in a dental-related field.
Selected Campus Locations:
If you want to become a licensed dental hygienist in New Hampshire, you must be prepared to complete the following steps, as required by the Board of Dental Examiners:
---
Step 1. Graduate from an Accredited School of Dental Hygiene
To earn licensure as a dental hygienist in New Hampshire, you must first complete a minimum of a two-year program that has been accredited by the United States Department of Education and the American Dental Association (ADA) Commission on Dental Accreditation (CODA). As the sole accrediting body in the U.S. for dental hygiene programs, CODA accredits both associate and bachelor degree programs.
Although the minimum requirement for licensure is the completion of an associate's degree program in dental hygiene, you may choose to complete a bachelor's degree so as to be better prepared for career advancement into practice management, research, and supervisory positions.
In New Hampshire, there is currently 1 CODA-accredited dental hygiene program, although online programs in dental hygiene have become a popular alternative for attaining a degree in this popular healthcare field.
In addition to courses in general dental hygiene, students of dental hygiene programs can expect to complete general college coursework, as well as coursework in both basic sciences and dental sciences. Further, the majority of dental hygiene programs now culminate in a clinical externship experience.
---
Step 2. Pass the National Board Dental Hygiene Examination
The completion of a CODA-accredited dental hygiene program prepares students to take the National Board Dental Hygiene Examination (NBDHE) through the Joint Commission on National Dental Examinations (JCNDE). The NBDHE is designed to assess your basic knowledge in dental hygiene and determine if you are qualified to become licensed as a dental hygienist in New Hampshire.
The NBDHE assesses your knowledge in the following areas:
Scientific Basis for Dental Hygiene Practice
Provision of Clinical Dental Hygiene Services
Community Health/Research Principles
It is also designed to assess your knowledge through dental hygiene patient cases that address a number of issues, including: obtaining/interpreting radiographs; using preventive agents; professional responsibility; and providing supportive treatment services, among others.
After registering to take the NBDHE through JCNDE (www.ada.org), you must schedule your examination and take it through one of the many Pearson VUE testing centers located across the country. There is one Pearson VUE testing center in Concord, New Hampshire.
---
Step 3. Pass the Commission on Dental Competency Assessments Examination
Upon successfully passing the National Board Dental Hygiene Examination, you must sit for the Commission on Dental Competency Assessments examination, a regional clinical examination that consists of two components that are taken at different times.
The computer simulated clinical examination (CSCE) is about two hours in length and is taken at a Prometric Testing Center. The patient treatment clinical examination (PTCE) is about four hours in length and is scheduled at a clinical examination site. You must score at least 75 on each examination to pass. In New Hampshire, you may take the PTCE at the New Hampshire Technical Institute in Concord.
You can view the upcoming exam calendar here and register to take the examination here.
---
Step 4. Apply for Licensure as Dental Hygienist in New Hampshire
To apply for licensure as a dental hygienist in New Hampshire, you must request an application packet by completing the Application Packet Request form and emailing it to dental.board@nh.gov, faxing it to 603-271-6702, or mailing it to:
Office of Licensed Allied Health Professionals
Philbrook Building
121 South Fruit Street
Concord, NH 03301
You may also request a permit for the right to administer local anesthesia by sending a written request to the Board, along with a $25 check made payable to Treasurer – State of NH.
---
Step 5. Renew your Dental Hygienist License
Dental hygienist licenses in New Hampshire are renewed biennially before April 1 of odd-numbered years upon the completion of at least 20 continuing education hours. Up to 4 hours of self-study are permitted. Other continuing education requirements include:
One continuing education credit may be given for each hour of attendance at lectures, seminars, and meetings.
Two continuing credits may be given for each hour of attendance at clinical or laboratory participatory courses.
At least 15 continuing education credits must be in clinical dental care subjects, including CPR.