There are currently 4,300 dental hygienists employed in the state, and that numbered is expected to grow rapidly. Between 2012 and 2022, the number of dental hygienists in Virginia is projected to climb to 6,360, a 48% jump from the current number. Virginia is second only to Georgia, by .3%, in the projected expansion of the dental hygienist occupation and ranks much better than the average national projected growth of 33%.
Salary and Wage Data for Virginia Based Dental Hygienists
Virginia is above average in annual salary and hourly wage when compared to the rest of the country.
SPONSORED LISTINGS
Featured Programs:

Penn Foster's Dental Assistant career diploma program​ will teach you on-the-job skills like dental health procedures, office operations, dentistry terminology use, and more - so you can begin pursuing your career as a Dental Assistant.​
Selected Campus Locations:
Selected Programs: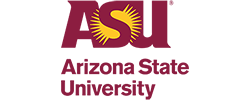 With ASU's Online Bachelor of Science in Applied Biological Sciences – Pre-Dental, you'll be equipped with the knowledge, skills and experience needed to pursue an advanced degree in dentistry or a career in a dental-related field.
Selected Campus Locations:
The following table breaks down the average hourly wage and annual salary and compares it to the average hourly wage and annual salary for dental hygienists across the United States:
10th percentile (wage/salary higher than 10% of dental hygienists)

Virginia: $53,400/year ($25.65/hour)
United States: $47,900/year ($32.77/hour)

25th percentile (wage/salary higher than 25% of dental hygienists)

Virginia: $68,200/year ($32.77/hour)
United States: $59,600/year ($28.66/hour)

50th percentile (wage/salary higher than 50% of dental hygienists)

Virginia: $81,100/year ($39.00/hour)
United States: $92,900/year ($44.65/hour)

75th percentile (wage/salary higher than 75% of dental hygienists)

Virginia: $92,900/year ($44.65/hour)
United States: $85,300/year ($41.02/hour)

90th percentile (wage/salary higher than 90% of dental hygienists)

Virginia: $107,800/year ($51.83/hour)
United States: $96,700/year ($46.49/hour)
The Bureau of Labor Statistics provide a complete outline of salary and wage statistics for Virginia, sorted by region:
Area name
Employment
Annual mean wage
Blacksburg-Christiansburg-Radford VA
Estimate not released
66850
Charlottesville VA
80
81890
Kingsport-Bristol-Bristol TN-VA
160
57240
Virginia Beach-Norfolk-Newport News VA-NC
980
73460
Washington-Arlington-Alexandria DC-VA-MD-WV Metropolitan Division
2410
88430
Southwestern Virginia nonmetropolitan area
140
60400
Southside Virginia nonmetropolitan area
Estimate not released
70260
Northeastern Virginia nonmetropolitan area
40
72960
Northwestern Virginia nonmetropolitan area
120
71310