There are approximately 7,610 actively employed dental hygienists in Ohio licensed by the State Dental Board. Licensing requires completion of an accredited dental hygienist program and passing the board examination.
Each year an average of 286 students graduate from one of the 12 dental hygienists schools located throughout the Buckeye state. Their job prospects are excellent with higher-than average job growth projections.
SPONSORED LISTINGS
Featured Programs:

Penn Foster's Dental Assistant career diploma program​ will teach you on-the-job skills like dental health procedures, office operations, dentistry terminology use, and more - so you can begin pursuing your career as a Dental Assistant.​
Selected Campus Locations:
Selected Programs: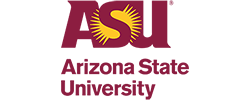 With ASU's Online Bachelor of Science in Applied Biological Sciences – Pre-Dental, you'll be equipped with the knowledge, skills and experience needed to pursue an advanced degree in dentistry or a career in a dental-related field.
Selected Campus Locations:
According to the US Bureau of Labor Statistics (BLS) the mean annual and hourly earnings of dental hygienists in Ohio are $64,960 and $31.23. Some other salary indicators are:
10th Percentile
90th Percentile

Statewide Annual
$50420
$80580

It is noted that dental hygienist salaries in Ohio vary considerably with experience, location and education. Although successful completion of an accredited two-year dental hygienist program is the minimal educational requirement, individuals who graduate with a bachelor's or greater are more likely to earn higher salaries and be given greater responsibilities, such as administering anesthesia under supervision.
Geographic Variations in Dental Hygienist Salaries in Nonmetropolitan Areas
Eastern Ohio
West/Northwest
10th Percentile
$53110
$50620
10th Percentile Hourly
$25.53
$24.34
25th Percentile
$59770
$54060
25th Percentile Hourly
$28.74
$25.99
90th Percentile
$80910
$83730
Dental Hygienist Salary Variations in Ohio Metropolitan Areas
The following figures are extracted from the results of a labor market survey conducted by the Ohio Department of Job and Family Services between 2010 and 2013.
Entry Level Wage
$25.75
$28.53
Median Annual
Estimate not released
$71238
The following BLS table illustrates salary differences in various regions of Ohio (BLS).
Area name
Employment
Annual mean wage
Canton-Massillon OH
160
60090
Cincinnati-Middletown OH-KY-IN
1590
68290
Cleveland-Elyria-Mentor OH
1540
62190
Steubenville-Weirton OH-WV
60
48390
Youngstown-Warren-Boardman OH-PA
390
57530