The New York Office of the Professions reported a total of 1,263 dental assistants in the State as of 2013. During the same period, 109 dental assistants held the Certified Dental Assistant credential.
The New York State Board of Dentistry Board of Dentistry recognizes two levels of dental assisting:
Dental assistants: Dental assistants in New York may perform some basic functions without holding a license.
Certified dental assistants: Certified dental assistants are those who complete a one-year course of college study (or an approved shorter course of study) and have passed a State-approved licensing examination.
Sponsored Listings
The New York State Board of Dentistry allows dental assistants to perform the following basic supportive functions under the supervision of a licensed dentist:
Prepare patient for treatment
Prepare instruments, materials and medicaments
Take dental x-rays
Decontaminate, scrub, package, and sterilize instruments
Perform mechanical work upon inert manner (e.g., trim or mount impressions taken by the dentist)
However, only certified dental assistants are permitted to perform the following supportive duties:
Provide patient education
Take preliminary medical histories and vital signs
Place and remove orthodontic arch wires, temporary cement, and periodontal dressings
Place and remove rubber dams, ligature ties, and temporary separating devices
Select and pre-fit temporary crowns and orthodontic bands
Take impressions for study casts, diagnostic casts, orthodontic appliances, and occlusal guards
Remove stitches placed by a dentist
Apply topical cavity-preventing agents
SPONSORED LISTINGS
Featured Programs:

Penn Foster's Dental Assistant career diploma program​ will teach you on-the-job skills like dental health procedures, office operations, dentistry terminology use, and more - so you can begin pursuing your career as a Dental Assistant.​
Selected Campus Locations:
Selected Programs: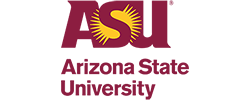 With ASU's Online Bachelor of Science in Applied Biological Sciences – Pre-Dental, you'll be equipped with the knowledge, skills and experience needed to pursue an advanced degree in dentistry or a career in a dental-related field.
Selected Campus Locations:
New York Dental Assistant Schools and Degree Options
To become a certified dental assistant in New York, individuals must first meet the educational requirements for licensure:
Must possess a high school diploma or GED
AND
OR
Must complete an equivalent program in dental assisting that is recognized by the State Education Department and that includes ONE of the following:

A one-year dental assisting programs that includes at least 24 semester hours in:

Biomedical sciences
Professional dental assisting content
Clinical content
Coursework in oral and written communications and basic behavioral concepts
At least 200 hours of clinical experience
OR
An alternate course of study in dental assisting recognized by the New York State Education Department and includes:

Biomedical sciences content
Professional dental assisting content
Clinical content
At least 1,000 hours of work experience under a licensed dentist's direct supervision
Certified Dental Assistant Examination Requirements
Upon meeting the educational requirements for licensure in New York, dental assistants must pass the appropriate examinations administered by the Dental Assisting National Board (DANB). Candidates may meet the eligibility requirements to complete the three component examinations of the Certified Dental Assistant (CDA) credential through the DANB through one of two pathways:
Pathway 1: Individuals must either complete a dental assisting program that has been accredited by the Commission on Dental Accreditation (CODA) or complete at least 3,500 hours of professional dental assisting experience to qualify to take the CDA examination. The CDA exam consists of the following components:
Radiation health and safety
Infection control
General chairside
Pathway 2: Individuals who have not met the DANB requirements of Pathway I must take and pass New York's three-part certified dental assisting examination through DANB, which consists of DANB's radiation health and safety and infection control examination components, as well as the New York Professional Dental Assisting component.
Individuals can view examination dates and scheduling information by contacting DANB at 1-800-FOR-DANB or visiting the DANB website.
DANB certification requires annual renewal upon the completion of at least 30 continuing education credits.
Applying for Licensure in New York
Applicants in New York must complete an Application for Licensure and First Registration form (Form 1) and submit it, along with a $103 licensure, first registration fee (made payable to the NY State Education Department), and Form 2: Certification of Professional Education to the NYS Education Department. Form 2 contains two sections:
Section 1: must be completed by the applicant
Section 2: must be completed by the registrar and sent directly from the educational institution to the Office of the Professions
Limited Permit Applicants
Limited permits in certified dental assisting allows dental assistants who have completed dental assisting program or an alternate course of study in dental assisting acceptable to the State Education Department to practice under the direct supervision of a licensed dentist in New York State while completing the examination requirements. Limited permits are valid for one year and may only be renewed once.
Individuals may also apply for a limited permit by completing Form 5: Application for Limited Permit and submitting a fee of $40. Individuals applying for a limited permit must also submit an Application for Licensure (Form 1), the $103 licensure and first registration fee, and Certification of Professional Education (Form 2).
Applications and related fees must be sent to:
NYS Education Department
Office of the Professions
PO Box 22063
Albany, NY 12201
Individuals can direct questions regarding becoming a licensed certified dental assistant in New York to the Division of Professional Licensing Services at 518-474-3817 or op4info@mail.nysed.gov.
Learn More about Dental Assisting in New York
Dental assistants in New York may explore their educational, continuing education, and professional options through professional associations: