A formal education in dental assisting is the first step to establishing a career in this allied health field. Dental assistant training programs are typically housed in vocational and technical schools, dental schools, and community colleges, and most result in a certificate diploma or associate's degree.
Dental assisting programs may be designed and structured as part-time programs, accelerated programs, or even online programs, and often culminate in an externship at a general dental office, public health clinic, or dental specialist's office.
Sponsored Listings
What to Look for in a Dental Assisting Program
Comprehensive dental assisting programs prepare candidates to become a vital part of a dental care team, while also preparing them to sit for one of the DANB (Dental Assistant National Board) certification examinations.
Find Dental Assistant Education Info by State
Therefore, a dental assisting program often includes the following course of study:
A study of general dentistry and the role of the dental assistant
Dental Operatory: Patients and Instrumentation
Disease Transmission, Pathology, and Dental Emergencies
Infection Control
OSHA Regulation
Radiology
Pharmacology and Anesthesiology
SPONSORED LISTINGS
Featured Programs:

Penn Foster's Dental Assistant career diploma program​ will teach you on-the-job skills like dental health procedures, office operations, dentistry terminology use, and more - so you can begin pursuing your career as a Dental Assistant.​
Selected Campus Locations:
Selected Programs: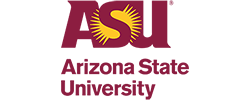 With ASU's Online Bachelor of Science in Applied Biological Sciences – Pre-Dental, you'll be equipped with the knowledge, skills and experience needed to pursue an advanced degree in dentistry or a career in a dental-related field.
Selected Campus Locations:
Dental terminology and anatomy

The anatomy of the mouth and learning to identify the various parts of the mouth, neck, throat
The oral cavity, the parts of the teeth, and the types of teeth
The structure of the tooth
The types of teeth, their functions, surfaces, and classification
Preventive Dentistry and Nutrition

The primary goals of preventive dentistry
Dental plaque and its role in causing dental disease
The use of fluorides
The role of nutrition in preventative dentistry
Cavity Classification and Charting

Medical and dental history forms
Medical conditions and their relation to dental treatment
Vital signs (recording, taking them)
Using and interpreting different charting symbols
Identifying permanent and deciduous teeth through a number of methods
Dental Law and Ethics

Basics of dental jurisprudence and ethical behavior
Malpractice
Principles of ethical decision making
Ethical issues in dentistry
HIPAA laws and noncompliance penalties
Privacy, confidentiality, and security
Dental specialties

Endodontics
Periodontics
Pediatric Dentistry
Orthodontics
Prosthodontics/Oral and Maxillofacial Surgery
Communicating in the Dental Office
Business Administration
Practice Management Software
Career Advancement through Education
While enjoying a career in basic or general dental assisting, many dental assistants go on to pursue career advancement through education. For example, dental assistants who pursue additional training and take and pass a DANB certification examination may become expanded function dental assistants. Options for becoming an expanded function dental assistant include:
Certified Dental Assistant (CDA): Earning the CDA credential allows dental assistants to perform more dental assisting functions, which may benefit their income and their career growth potential.
Certified Preventive Functions Dental Assistant (CPFDA): Dental assistants who have earned the CPFDA are permitted to apply coral polish, sealants, topical fluoride, and topical anesthetic.
Certified Orthodontic Assistant (COA): In some states, like Oregon and Maryland, orthodontic assistants enjoy a separate professional title from dental assistants. Achieving the COA credential meets state requirements in those states.
Going back to school and achieving a college degree may also allow dental assistants to work in related fields. For example, a dental hygienist, unlike a dental assistant, must complete an associate's degree in dental hygiene and be licensed in the state in which they work. Hygienists are then permitted to perform cleanings and other procedures. As such, the earning potential for dental hygienists is generally greater than that of dental assistants.
An associate or bachelor's degree from an accredited college or university in business, medical, or office administration may allow dental assistants to become an office manager in a dental office, while a bachelor's degree in education may allow dental assistants to go on to teach courses within a dental assisting program. CODA-accredited dental assisting programs require their educators to hold DANB certification and a bachelor's degree or higher.
CODA-Accredited Dental Assisting Programs
The Commission on Dental Accreditation (CODA) accredits dental assisting programs in the U.S. Although the completion of a CODA-accredited program may not be necessary to find employment in the dental assisting profession, it is required to attain national certification through the Dental Assisting National Board (DANB), which is a requirement that many state boards of dentistry have in place. Individuals who have not completed a CODA-accredited program may qualify for DANB certification, provided they can show proof of the completion of at least two years of work as a full-time dental assistant.
Because there are more than 270 CODA-accredited programs in the United States, finding an accredited program does not typically present much of a challenge. A list of programs, by state, can be found here.