The New Mexico Department of Workforce Solutions considers the outlook for the dental hygiene field in the state to be a bright one. It reported the median 2013 dental hygienist salary in New Mexico to be $69,680. Experienced dental hygienists in the state earned $81,470 on average, while those entering the workforce averaged $48,880.
The average entry-level dental hygienist salary in New Mexico varied tremendously between workforce regions in the state.
SPONSORED LISTINGS
Featured Programs:

Penn Foster's Dental Assistant career diploma program​ will teach you on-the-job skills like dental health procedures, office operations, dentistry terminology use, and more - so you can begin pursuing your career as a Dental Assistant.​
Selected Campus Locations:
Selected Programs: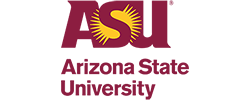 With ASU's Online Bachelor of Science in Applied Biological Sciences – Pre-Dental, you'll be equipped with the knowledge, skills and experience needed to pursue an advanced degree in dentistry or a career in a dental-related field.
Selected Campus Locations:
There was a $20,575 difference in the average salaries of entry-level dental hygienists in the northern workforce region versus those in the central part of the state:
Workforce Region
Entry-level
Experienced

Dental Hygienist Job Growth in New Mexico
The number of dental hygienist jobs in New Mexico is projected to increase by 2.1% a year between 2012 and 2022. This rate of increase is 1.9 times greater than that projected for New Mexico occupations as a whole.
Job growth in New Mexico's major metropolitan areas is projected to be lower than the state's average. The exception is the Albuquerque area. The field of dental hygiene there is projected to increase 2.5% between 2012 and 2022.
An additional 226 jobs are forecast for New Mexico during this period. Half of them will be in the Albuquerque area. Thirty percent of the projected New Mexico dental hygienist jobs will be outside of the major metropolitan areas. The Farmington, Las Cruces, and Santa Fe areas combined will only produce 19.5% of the state's new jobs.
The Bureau of Labor Statistics provides 2013 New Mexico dental hygienist salary information for both metropolitan and nonmetropolitan areas of the state:
Area name
Employment
Annual mean wage
North and West Central New Mexico nonmetropolitan area
70
87150
Eastern New Mexico nonmetropolitan area
200
72230
Los Alamos County New Mexico nonmetropolitan area
30
86950