The dental hygiene field in Missouri is projected to growth at more than three times the rate of occupations as a whole in the state according to the state's Department of Economic Development. This agency projects a 26.99% rate of growth in the number of dental hygienist jobs during the ten-year period ending in 2022.
Dental Hygienist Salaries in Key Regions of Missouri
The average 2013 entry-level dental hygienist salary in Missouri was $56,256—much higher than that of most occupations. The average Missouri dental hygienist salary was $70,248, while experienced professionals earned $77,244 on average.
SPONSORED LISTINGS
Featured Programs:

Penn Foster's Dental Assistant career diploma program​ will teach you on-the-job skills like dental health procedures, office operations, dentistry terminology use, and more - so you can begin pursuing your career as a Dental Assistant.​
Selected Campus Locations:
Selected Programs: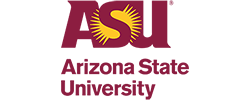 With ASU's Online Bachelor of Science in Applied Biological Sciences – Pre-Dental, you'll be equipped with the knowledge, skills and experience needed to pursue an advanced degree in dentistry or a career in a dental-related field.
Selected Campus Locations:
Dental hygienist salaries in all categories were highest in the Saint Louis Workforce Investment Area (WIA):
WIA
Entry-level
Experienced

Dental Hygienist Employment Levels in Missouri
In 2012, there were 2,803 dental hygienists working in Missouri. Forty percent of them were in the Saint Louis area. The rest of these professionals were dispersed throughout the state. The Kansas City area had the second largest amount of dental hygienists with 18.7%. This was nearly twice the number of those employed in the Central Workforce Investment Area.
Job growth predictions indicate that the West Central area will have a higher rate of job growth than the state's average at 27.27%. The only other area with job growth projections in excess of 20% was the Central Workforce Investment Area.
The Bureau of Labor Statistics also provides an analysis of the 2013 Missouri dental hygiene salary percentiles throughout the state:
Area name
Employment
Annual mean wage
Cape Girardeau-Jackson MO-IL
50
62010
Fayetteville-Springdale-Rogers AR-MO
170
54290
Kansas City MO-KS
1140
67240
Central Missouri nonmetropolitan area
180
64850
North Missouri nonmetropolitan area
80
69100
Southeast Missouri nonmetropolitan area
90
60920
Southwest Missouri nonmetropolitan area
60
65020