According to the Connecticut Department of Labor, the dental assistant profession ranked among the top in-demand professions in terms of projected job growth over the next decade. In 2012, the Department of Labor reported 4,181 dental assistants working in Connecticut. By 2022, this number is expected to grow to 4,534, representing an increase of 353 jobs.
The Connecticut Department of Health does not license, certify, or register dental assistants. However, a licensed dentist in Connecticut may delegate duties to dental assistants that they deem advisable, including taking dental x-rays, provided they complete a dental radiography examination through the Dental Assisting National Board (DANB).
Sponsored Listings
Dental assistants in Connecticut may not:
Diagnose for dental procedures or dental treatment
Cut or remove any hard or soft tissue of suturing
Prescribe drugs or medications that require the written or oral order of a licensed physician or dentist
Administer local, parenteral, inhalation, or general anesthetic agents related to any dental operative procedure
Take impressions of the teeth or jaws for the purpose of making appliances or prostheses
Place, finish, or adjust temporary or final restorations
Practice dental hygiene
Dental Assistant Schools in Connecticut
An individual interested in becoming a dental assistant in Connecticut should begin their professional journey by completing a dental assisting program. Although the completion of a formal education program is not legally required to practice dental assisting in Connecticut, employers nevertheless typically demand that their dental assistants have a background that includes formal education and training.
SPONSORED LISTINGS
Featured Programs:

Penn Foster's Dental Assistant career diploma program​ will teach you on-the-job skills like dental health procedures, office operations, dentistry terminology use, and more - so you can begin pursuing your career as a Dental Assistant.​
Selected Campus Locations:
Selected Programs: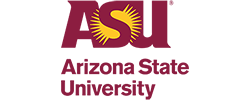 With ASU's Online Bachelor of Science in Applied Biological Sciences – Pre-Dental, you'll be equipped with the knowledge, skills and experience needed to pursue an advanced degree in dentistry or a career in a dental-related field.
Selected Campus Locations:
The sole accrediting body for dental assisting is the Commission on Dental Assisting (CODA). It is the mission of CODA to serve the public by ensuring that dental programs reflect the "evolving practice of dentistry" in the United States. CODA is a specialized component of the American Dental Association and is recognized by the U.S. Department of Education.
In Connecticut, there are 4 CODA-accredited dental assisting programs. Further, there are a number of distance education programs that allow individuals to achieve a certificate in dental assisting through online coursework.
However, regardless of whether the program is online or through a local junior college, technical or vocational school, or dentist school, students must satisfy program requirements by completing a clinical experience.
Dental assisting programs are generally less than a year in length. These programs end in a clinical experience designed to allow dental assistant graduates to begin utilizing their recently acquired knowledge in a real-world setting. Coursework in a dental assistant program is often focused on:
Radiology
Oral anatomy
Oral disease
Impressions
Sterilization
Nitrous sedation
Crown and bridge
Restorative dentistry
Cosmetic dentistry
Crown and bridge
Orthodontics
Endodontics
Pediatric dentistry
Dental Assistant Career Advancement
National Certification
Although post-secondary programs in dental assisting are difficult to find, many dental assistants may still choose to advance in their profession by achieving national certification through the Dental Assisting National Board (DANB). DANB certification is voluntary, with the exception of dental assistants in the State who take dental x-rays, as these allied healthcare professionals must take and pass the Radiation Health and Safety (part of the CDA credential) DANB examination.
The Certified Dental Assistant (CDA) credential through DANB is often the first credential pursued by recent dental assistant graduates, although they may also seek additional DANB credentials, particularly if they currently or plan to practice dental assisting in specialized settings. To achieve the CDA credential, dental assistants must take and pass three component examinations:
General Chairside Assisting (GC)
Infection Control (ICE)
Radiation Health and Safety (RHS)
Therefore, dental assistants who take and pass the RHS to be able to perform x-rays may choose to also take and pass the CDA's other examinations and achieve the CDA credential. To qualify for the CDA credential, candidates must either be graduates of a CODA-accredited program or have at least 3,500 hours in dental assisting work experience.
DANB's other certifications include:
Certified Restorative Functions Dental Assistant (CRFDA)
Certified Preventive Functions Dental Assistant (CPFDA)
Certified Orthodontic Assistant (COA)
All DANB certifications must be renewed on an annual basis, and all require the completion of at least 30 continuing education credits for renewal. Individuals can learn more about becoming credentialed by visiting the DANB website. They can also learn more about continuing education requirements and options for DANB certification through The Dale Foundation, an affiliate of DANB and a provider of many dental assisting continuing education courses.
Related Careers and Educational Options
Dental assistants may choose to take their careers in a different direction at some point. Although dental assisting associate degree programs are few and far between, dental assistants often choose to pursue an associate's degree in dental hygiene. Dental hygienists are licensed professionals who are permitted to perform more advanced duties in a dental practice, including cleaning teeth, without direct supervision of a dentist.
It may also be beneficial for dental assistants to pursue associate or bachelor degrees in medical administration or office administration as to become a dental office supervisor or manager.
Resources for Dental Assistants in Connecticut
Dental assistants in Connecticut have access to a number of resources that may provide these healthcare professionals with networking, employment, and continuing education opportunities:
Connecticut Dental Assistants Association: The Connecticut Dental Assistants Association provides dental assistants in the State with career resources, updated legislative news, continuing education events and courses, and professional events.
Connecticut State Dental Association: The Connecticut State Dental Association is a statewide professional membership organization that represents both Connecticut dentists and their staff. There are approximately 2,600 members statewide. The CSDA supports legislation that protects the quality of dental care in Connecticut.