According to the Arizona Department of Administration, there were 6,259 dental assistants employed in the State in 2012; but by 2013 this number increased to 6,552. By 2022, the Department of Administration projects there will be 8,384 dental assistants practicing in the state.
This represents a projected 34 percent job growth rate, much greater than the national average projections for this profession of 25 percent.
Sponsored Listings
Individuals who want to learn how to become a dental assistant must understand the requirements set forth by the Arizona Dental Association. Although these professionals are not licensed, their duties are nevertheless regulated. Dental assistants that perform expanded duties in Arizona must be certified to do so.
Dental Assistant Schools in Arizona
Dental assistants in the State of Arizona are permitted to perform basic supportive dental procedures, under the direct supervision of a licensed dentist, without any state-mandated education or training. However, dental assistants who perform a number of advanced duties must possess specific education and training as to receive certification in:
Radiologic proficiency certification (x-ray) certification
Coronal polishing
SPONSORED LISTINGS
Featured Programs:

Penn Foster's Dental Assistant career diploma program​ will teach you on-the-job skills like dental health procedures, office operations, dentistry terminology use, and more - so you can begin pursuing your career as a Dental Assistant.​
Selected Campus Locations:
Selected Programs: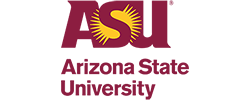 With ASU's Online Bachelor of Science in Applied Biological Sciences – Pre-Dental, you'll be equipped with the knowledge, skills and experience needed to pursue an advanced degree in dentistry or a career in a dental-related field.
Selected Campus Locations:
All dental assistant candidates can benefit from a comprehensive dental assistant program accredited by the Commission on Dental Accreditation (CODA), the sole accrediting agency for dental assistant programs approved by the U.S. Department of Education. There are currently 3 programs accredited by CODA in Arizona.
A dental assistant program, which typically lasts about 10 months and ends in a clinical experience, prepares dental assistants to achieve both state and national certification, thereby establishing themselves as advanced professionals in their field. Courses in a dental assisting program often include:
Basic body systems and functions
Oral anatomy
Oral radiology
Chairside assisting
Dental sciences
Dental materials
Office applications
Computer applications
Training and Certification Programs in Arizona
Beyond a CODA-accredited program in dental assisting, dental assistants in Arizona can further their education and therefore their career by becoming certified in the following advanced functions:
Radiologic Proficiency Certification
Becoming x-ray certified is not a requirement for dental assistants in Arizona. However, those who become x-ray certified are allowed to expose radiographs for dental diagnostic purposes under the general supervision of a licensed dentist.
To become certified in x-ray in Arizona, dental assistants must successfully complete an examination process that has been approved by the Arizona Board of Dental Examiners. The examination process involves the successful completion of the Dental Assisting National Board (DANB) Radiation Health and Safety (RHS) component exam.
The content of the Radiation Health and Safety exam includes:
Expose and evaluate


Select appropriate radiographic techniques
Select appropriate equipment for radiographic techniques
Infection control techniques and barriers
Patient management techniques related to radiographic exposure
Acquiring radiographic images
Basic knowledge of digital radiography and other modern imaging techniques
Radiographic images for diagnostic value

Conventional film processing
Mount and label
Radiation safety
Dental assistants can best prepare to take this certification examination by taking the Oral Radiography Review for Dental Assistants course through the Arizona Dental Association. This course can be taken at Phoenix College, Pima Community College (Tucson), or Progressive Dental Academy (Scottsdale). Individuals can learn more about registering for this course by contacting the Arizona Dental Association at 480-344-5777.
Individuals can contact DANB regarding registration for the examinations at 1-800-367-3262.
Once the examinations have been passed, dental assistants in Arizona must apply to the Arizona State Board of Dental Examiners (ASBDE) for Dental Assistant Radiography Certification by Credential. There are no renewal requirements for this certification.
Coronal Polishing
Dental assistants who want to perform coronal polishing procedures in Arizona must:
Pass the DANB Coronal Polish exam (Coronal Polish Exam for Arizona Residents): Form A application packet (The DANB administers the complete certification program for coronal polishing, including providing the exam information, distributing applications, testing, issuing certificate, and handling inquiries.)
Submit an Arizona Coronal Polishing Clinical Skills Affidavit: Form B (must be completed by a licensed dentist or coronal polishing educator or course instructor
Dental assistants must complete the above to receive an Arizona Coronal Polishing Certificate and begin performing coronal polishing.
The outline for the DANB Coronal Polish Exam includes:
Dental and oral anatomy
Oral prophylaxis
Objective of coronal polish
Dental deposits
Polishing technique
Infection control/OSHA protocol
Polishing precautions
Patient education and recordkeeping
Abrasives and polishing agents
Other DANB Certification Options
In addition to completing training to perform coronal polishing or x-rays, dental assistants in Arizona may pursue a number of professional certifications through DANB. The most common certification for dental assistants is the Certified Dental Assistant (CDA). To be eligible for CDA certification, candidates must take and pass three component exams.
To qualify to take the CDA examinations, candidates must have either graduated from a CODA-accredited dental assistant program or possess at least 3,500 hours of experience in dental assisting. Other DANB certifications include:
Certified Restorative Functions Dental Assistant (CRFDA)
Certified Preventive Functions Dental Assistant (CPFDA)
Certified Orthodontic Assistant (COA)
All DANB certifications must be renewed on an annual basis upon completion of 30 continuing education credits. Continuing education for dental assistants is often completed through The Dale Foundation, the affiliate of DANB. The Dale Foundation is also a valuable resource for:
Learning about the dental assistant career path
DANB certification study aids
Meeting state requirements
Dental Assistant Job Duties and Responsibilities in Arizona
Dental assistants in Arizona may perform the following duties under direct supervision:
Remove sutures
Apply topical fluorides
Place and remove dental dams
Apply sealants
Fabricate and place interim restorations with temporary cement
Remove interim restorations with hand instruments
Observe a patient under nitrous oxide and oxygen analgesia
Remove excess cement from bridges, crowns, inlays, and orthodontic appliances
Remove periodontal dressings
Place bands, crowns, and restorations
Place dental material into a patient's mouth
Dental assistants in Arizona may perform the following duties under general supervision:
Collect and record information regarding extraoral conditions
Train and instruct patients in oral hygiene techniques and preventative procedures
Educate patients on plaque control
Provide patients with pre- and post-operative instructions
Dental assistants in Arizona are not permitted to perform the following:
Take final impressions
Intraoral carvings of dental restorations
Final jaw registrations
Activate orthodontic appliances
An irreversible procedure
Additional information on Alaska dental assistants can be found through the Alaska Dental Society. The Alaska Dental Society provides members with a wealth of resources, including employment opportunities, mentor programs, continuing education opportunities, and the latest news on the dental practice in Alaska.