The Delaware Department of Labor reported a total of 843 dental assistants in the State in 2012. In recent projections, the Department of Labor determined that the annual job growth rate for dental assistants in the state is expected to be strong for the foreseeable future.
The Delaware Board of Dentistry and Dental Hygiene is responsible for protecting the general public from unsafe and unprofessional practices. As such, the Board develops standards for professional competency and maintains rules and regulations concerning the practice of all dental professionals in the state.
Sponsored Listings
In Delaware, the supervising dentist always determines the competency of a dental assistant in performing specific duties. In other words, the Board places full responsibility on the dentist when deciding the scope of work that is allocated to the dental assistant. In addition, all training for dental assistants is the responsibility of the dentist.
The only exception to this is the radiography requirement, which requires dental assistants to take and pass an appropriate examination.
Dental Assistant Schools and Training Programs in Delaware
Dental assisting may not be a licensed occupation in Delaware, but the completion of a formal education program is nevertheless highly valued, and very often required by employers throughout the State.
SPONSORED LISTINGS
Featured Programs:

Penn Foster's Dental Assistant career diploma program​ will teach you on-the-job skills like dental health procedures, office operations, dentistry terminology use, and more - so you can begin pursuing your career as a Dental Assistant.​
Selected Campus Locations:
Selected Programs: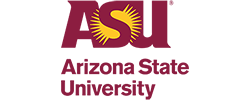 With ASU's Online Bachelor of Science in Applied Biological Sciences – Pre-Dental, you'll be equipped with the knowledge, skills and experience needed to pursue an advanced degree in dentistry or a career in a dental-related field.
Selected Campus Locations:
The Commission on Dental Accreditation (CODA), which is recognized by the U.S. Department of Education and the Dental Assisting National Board (DANB), accredits dental programs throughout the country. There are no CODA-accredited dental assisting programs in Delaware; however, there are 6 programs in Pennsylvania, 6 programs in New Jersey, and 1 program in Maryland. There are also a number of CODA-accredited dental assisting programs offered through online (distance education) programs.
CODA-accredited dental assisting programs, which are generally less than a year in duration, may be offered at junior or community colleges, vocational or technical schools, and dental schools. A few institutions offer dental assisting programs as associate degree programs, although this is the exception to the rule.
In addition to a comprehensive sequence of courses and opportunities for hands-on experiences, dental assistant programs always culminate in a clinical externship.
Dental assistants who want to pursue other professional opportunities may choose to complete an associate degree in dental hygiene. Dental hygienists must achieve an associate's degree or higher and become licensed in the state in which they work. Dental hygienists, who often work alongside dental assistants, are permitted to perform additional duties in a dental office, such as dental cleanings, without the direct supervision of a dentist.
Meeting Delaware's Radiography Requirements
Dental assistants who perform x-rays must meet radiography requirements set forth by the Delaware Board of Dentistry and Dental Hygiene.
Specifically, dental assistants in Delaware must successfully take and pass one of the following:
The Dental Assisting National Board (DANB) Radiation Health and Safety (RHS) exam (as part of the Certified Dental Assistant examination); OR
The Delaware Dental Radiologic Technology (DDRT) examination administered by DANB
Both the DDRT and RHS examinations consist of the following content:
Expose and evaluate
Conventional film processing
Mount and label
Radiation safety – patient
Radiation safety – operator
Upon passing one of the above examinations, dental assistants must submit a completed state certificate application to the Delaware Office of Radiation Control (ORC).
Individuals who have completed the DDRT exam must complete Form R-16-S, while individuals who have completed the RSH exam must complete Form R-16-N. Individuals may also obtain these forms by contacting the ORC at 302-744-4546.
The ORC will then issue a state certificate as a dental radiation technician.
Note: By December 31, 2015, the DDRT will be phased out; therefore, dental assistants who want to become certified as a Delaware radiation technician must apply to and sit for the DANB RHS exam after this date.
Registration and preparation for both the DDRT and RHS examinations can be found on the DANB website. All examinations are administered through Pearson VUE, which has testing centers throughout the U.S.
Certification Options for Dental Assistants
A career in dental assisting may be enhanced through national certification. The main certifying body for the dental assistant profession is the Dental Assisting National Board (DANB), which offers both basic certification via the Certified Dental Assistant (CDA) credential, as well as a number of advanced credentials for dental assistants working in specialized dental office settings, which include:
Certified Preventive Functions Dental Assistant
Certified Restorative Functions Dental Assistant
Certified Orthodontic Assistant
The CDA credential is earned by passing three component examinations:
General Chairside Assisting (GC)
Infection Control (ICE)
Radiation Health and Safety (RHS)
All of the above CDA examinations (including the RHS examination, a requirement for Delaware dental assistants performing radiography duties) may be completed on different dates, provided they are all completed in a five-year time period.
The other DANB certifications also consist of between two and four component examinations. All DANB certifications for dental assistants must be renewed on an annual basis upon the completion of at least 30 continuing education credits. The DALE Foundation, a DANB affiliate, is a comprehensive resource for DANB continuing education and is a supplier of continuing education courses, study aids, and state resources.
Prohibited and Allowable Dental Assistant Job Duties in Delaware
Dental assistants in Delaware are not permitted to perform the following:
Diagnosis and treatment planning
Cutting or hard and soft tissue
Fabricating an application or restoration that would come in direct contact with hard or soft tissue and that could result in tissue injury or irritation
Any procedures allocated to registered dental hygienists
Dental assistants may perform the following under direct supervision:
Give and demonstrate home-care procedures to the patient
Place a rubber dam
Take impressions for study models
Place cotton rolls
Remove excess cement from dental restorations and appliances using hand instruments
Remove temporary medicinal fillings or packs under the direct order of the dentist
Any other duties as delegated by the supervision dentist
Resources for Dental Assistants in Delaware
Dental assistants in Delaware may learn more about employment opportunities in dental assisting, continuing education opportunities, and networking opportunities through a number of professional associations: