The Arkansas Department of Workforce Services projects that there will be 3,445 dental assistants working in the state by 2018, which represents an unprecedented 35 percent increase over the current total. This will result in about 133 dental assistant job openings in Arkansas each year.
Dental assistants must be registered and/or possess an expanded duty permit to perform a number of expanded dental assisting duties in Arkansas, including:
Administration and monitoring of nitrous oxide
Coronal polishing
Dental radiography
Sedation monitoring
Sponsored Listings
The Arkansas State Board of Dental Examiners reports a current total of 2,713 registered dental assistants in the State. Of these RDAs in Arkansas, the following have achieved practicing privileges for the following expanded duties:
Radiography permit RDA holders: 2,657
Nitrous permit RDA holders: 1,998
Polishing permit RDA holders: 2,410
Sedation monitoring permit RDA holders: 45
Dental Assistant Schools in Arkansas
Due to specific practicing requirements for achieving the RDA credential and for performing expanded duties, dental assistants in Arkansas are always better prepared if they have completed a dental assisting educational program that is accredited by the Commission on Dental Assisting (CODA). CODA is currently the only accrediting body recognized by the U.S. Department of Education for the accreditation of dental assisting programs. There are currently two CODA-accredited programs for dental assistants in Arkansas.
SPONSORED LISTINGS
Featured Programs:

Penn Foster's Dental Assistant career diploma program​ will teach you on-the-job skills like dental health procedures, office operations, dentistry terminology use, and more - so you can begin pursuing your career as a Dental Assistant.​
Selected Campus Locations:
Selected Programs: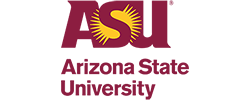 With ASU's Online Bachelor of Science in Applied Biological Sciences – Pre-Dental, you'll be equipped with the knowledge, skills and experience needed to pursue an advanced degree in dentistry or a career in a dental-related field.
Selected Campus Locations:
Most CODA-accredited programs consist of about 9 to 11 months of instruction, followed by a clinical experience. Dental assisting programs may be offered through community/junior colleges, dental schools, and vocational/technical schools.
A typical dental assisting program includes study in both the administrative and clinical aspects of this profession. As such, students may learn everything from how to communicate with patients regarding proper dental hygiene and managing a dental office to disinfecting dental tools and assisting the dentist with office procedures.
Dental Assistant Requirements in Arkansas
Dental assistants in Arkansas do not need to become registered dental assistants (RDAs); however, dental assistants often choose to do so because it often increases their value in the profession and their opportunities for employment. Dental assistants who want to become RDAs in Arkansas must first:
Individuals must then complete an Application for Registration of Dental Assistants. Upon receipt of the initial application, the Board will mail the jurisprudence exam that covers the Dental Practice Act/Dental Corporation Act/Rules and Regulations.
Candidates must pass this exam with a minimum score of 75 percent to achieve registration as an RDA in Arkansas.
Once the RDA credential has been achieved, individuals can pursue permits for expanded duty privileges.
Specialized Training and Certification Programs in Arkansas
Dental assistants who choose to pursue expanded duties in dental radiography, coronal polishing, the administration/monitoring of nitrous oxide, and/or sedation monitoring and who are not registered must be prepared to complete specific courses, exams, and procedures.
RDAs, however, may achieve expanded duty permits by completing an Expanded Duties Add-On for Registered Dental Assistants application through the Arkansas State Board of Dental Examiners. Dental assistants who have already achieved the RDA in Arkansas by completing a CODA-accredited dental assisting program or by achieving the CDA credential are permitted to perform expanded duties, with the exception of sedation monitoring, which requires additional coursework.
However, dental assistants who do not meet the RDA requirements may still achieve permits for expanded duties if they meet the following requirements:
Nitrous oxide administration and monitoring
To achieve a permit in nitrous oxide administration and monitoring, dental assistants in Arkansas must take and pass a course of the same name by one of the Board's approved instructors AND receive a passing score on the Arkansas jurisprudence exam AND possess CPR certification.
Dental radiography
To achieve a permit in dental radiography, dental assistants must possess a certificate of completion of a radiography course approved by the Board AND receive a passing score on the Arkansas jurisprudence exam AND possess CPR certification
Coronal Polishing
To achieve a permit in coronal polishing, dental assistants must complete a course in coronal polishing that has been approved by the Board AND receive a passing score on the Arkansas jurisprudence exam AND possess CPR certification.
Sedation monitoring
To achieve a permit in sedation monitoring, all dental assistants (including RDAs) must first possess a permit in nitrous oxide administration and monitoring and then successfully complete the Dental Anesthesia Assistant National Certification (DAANCE) course.
Dental assistants must be completed by an oral or maxillofacial surgeon and be currently CPR certified. The DAANCE course consists of a two-part continuing education program that includes about 36 hours of self-study materials that result in a standardized, computer-based exam.
Candidates may contact Applied Measurement Professionals (AMP) at 913-895-4600 with questions regarding registering for the DAANCE course.
Dental Assisting National Board Certification Options
Following a CODA-accredited program, dental assistants in Arkansas often pursue national certification through the Dental Assisting National Board (DANB). The basic certification through DANB is the Certified Dental Assistant (CDA), which consists of three component examinations:
General Chairside Assisting (GC)
Infection Control (ICE)
Radiation Health and Safety (RHS)
The above examinations can be taken at the dental assistant's leisure; however, all three examinations must be completed in 5 years to achieve the CDA certification. DANB certification examinations are administered through Pearson VUE. Candidates can find additional information on achieving a DANB certification, including certification application packets, through DANB.
Other DANB certifications include:
Certified Restorative Functions Dental Assistant (CRFDA)
Certified Preventive Functions Dental Assistant (CPFDA)
Certified Orthodontic Assistant (COA)
All DANB credentials must be renewed on an annual basis, following the completion of 30 continuing education credits, which may be completed through a number of sources, including The Dale Foundation.
Dental Assistant Regulations in Arkansas
Dental assistants in Arkansas are not permitted to perform the following:
Scaling, root planning, and curettage
Final placement of orthodontic brackets
Placement, seating, and removal of final or permanent restorations
Diagnosis and treatment planning
Surgical or cutting procedures on hard or soft tissue
Prescription, injection, inhalation, and parenteral administration of drugs
Procedures that result in any irreversible alteration of the oral anatomy
The use of air-driven electric, sonic, ultrasonic, or other powered scalers and polishers
Oral examinations
Oral prophylaxis
Placing medicines into the periodontal pockets or the sulcus
Resources for Dental Assistants in Arkansas
The Arkansas Department of Workforce Services reports that as of 2008, the largest employer of dental assistants was dental offices, who employed nearly 96 percent of all dental assistants. During this time, there were 1,148 employers of dental assistants in Arkansas.
Dental assistants in Arkansas may find a wealth of information regarding continuing education, networking, and employment opportunities through the following organizations: